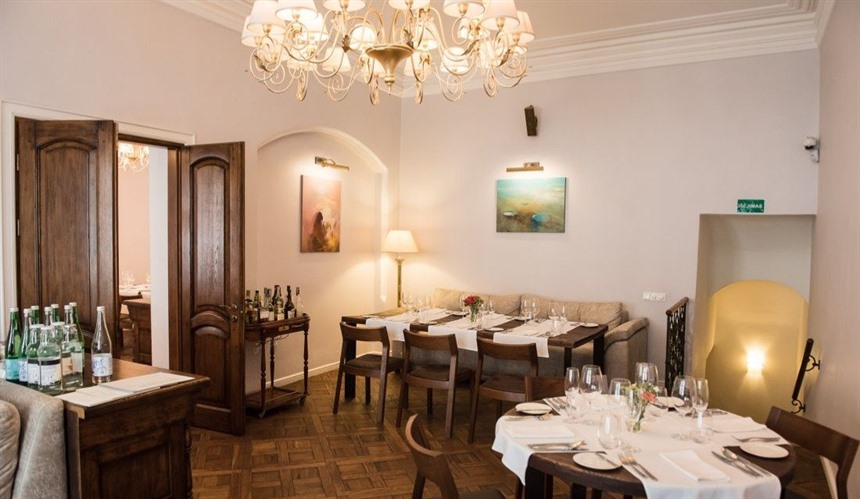 When one thinks about Lithuanian cuisine, you automatically think of cold pink beet soup called šaltibarščiai or potatoes – potatoes pancakes (Bulviniai blynai), potato pie (Bulvių plokštainis) and the ubiquitous Cepelinai (Didžkukuliai). These are large rounded dumplings made from grated potatoes stuffed with meat served with lashings of sour cream, fried onion and sometimes mushrooms. They are Zeppelin-shaped so that's where they get their name from, rather than that's what you would look like, if you ate Cepelinai on a regular basis.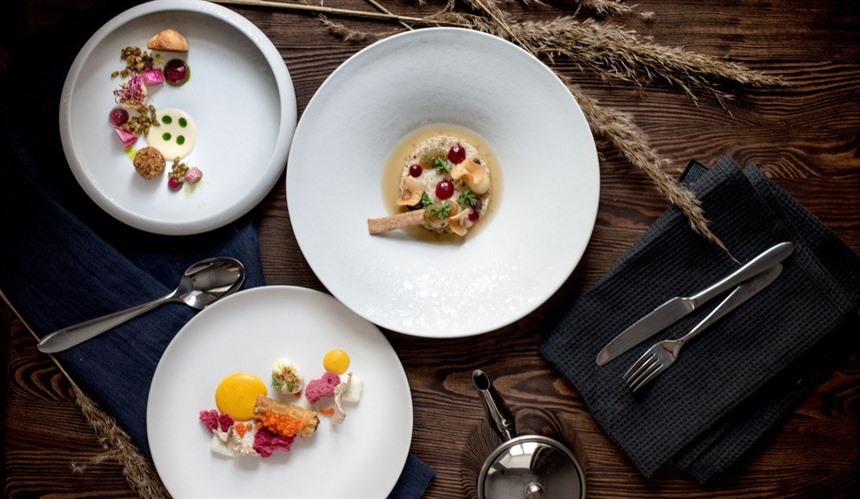 With this is in mind, we headed to Vilnius old Town and to Ertlio Namas, a unique restaurant offering various tasting menus centred around local seasonal foods. Working with a culinary historian, head chef Tomas Rimydis has recreated dishes of the Medieval, Renaissance and Baroque eras into a modern light and visually stunning dining experience. The menu of course changes seasonally and when we visited in Spring, we tasted four delicious courses. For 25euros extra you can pair the courses with delectable wine, finishing off with a delightfully sweet Lithuanian honey mead. Each course is explained to us in English by our ever-so courteous waiter.
After a delicious more-ish bread served with light artichoke and olive butter – we moved on to our first course.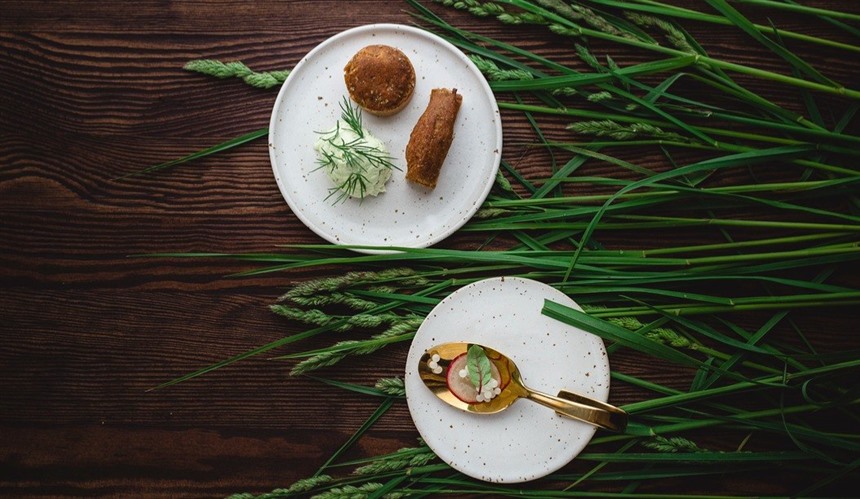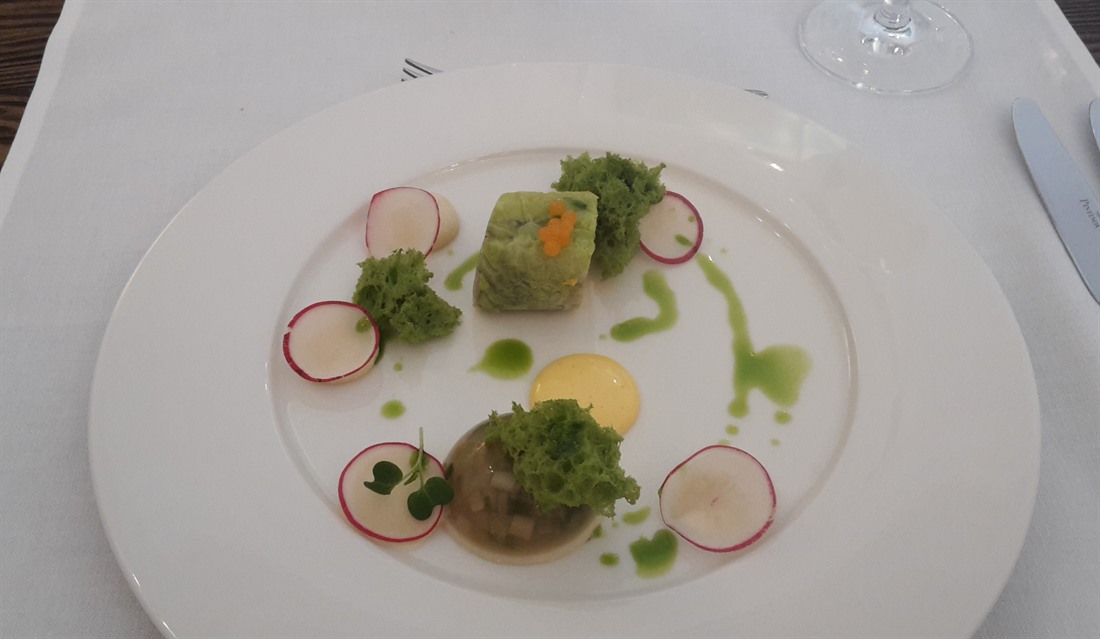 A delicate pike and eel roll with black truffles wrapped with savoy cabbage, topped with carrot caviar, dotted around the plate a light parsnip cream, with a sliver of radish adding colour. There was also a mayonnaise cream with garlic aioli, spinach and onion sponge, as well as an Italian vegetable aspic. Our plates were licked clean! The Lithuanians from being the last pagans in Europe, took to Christianity like a duck to water – they were very religious and the explanation from our waiter for the popularity of pike during the 17th and 18th century was that the Pike is the fish of Christ – as when you cut the head of the fish and look in at the bones, some of the bones might look similar to the cross, so hence Lithuanians thought this was a very holy fish. We then dined on lamb soup, our bowls came with bite-sized pieces of tender lamb, fried bot kohlrabi, sweet cabbage jam and pearl barley with carrot cream and then hot stock, which has been boiled for 2 days at 55 degrees was poured into the dish. For Lithuanians going back to Christian symbolism – the lamb was the animal of God. In the medieval times, people believed in paying the church for redemption of their sins and this was called indulgences. But some people thought that by eating the lamb of God, maybe God would forgive them without them having to throw their coins into the collection plate.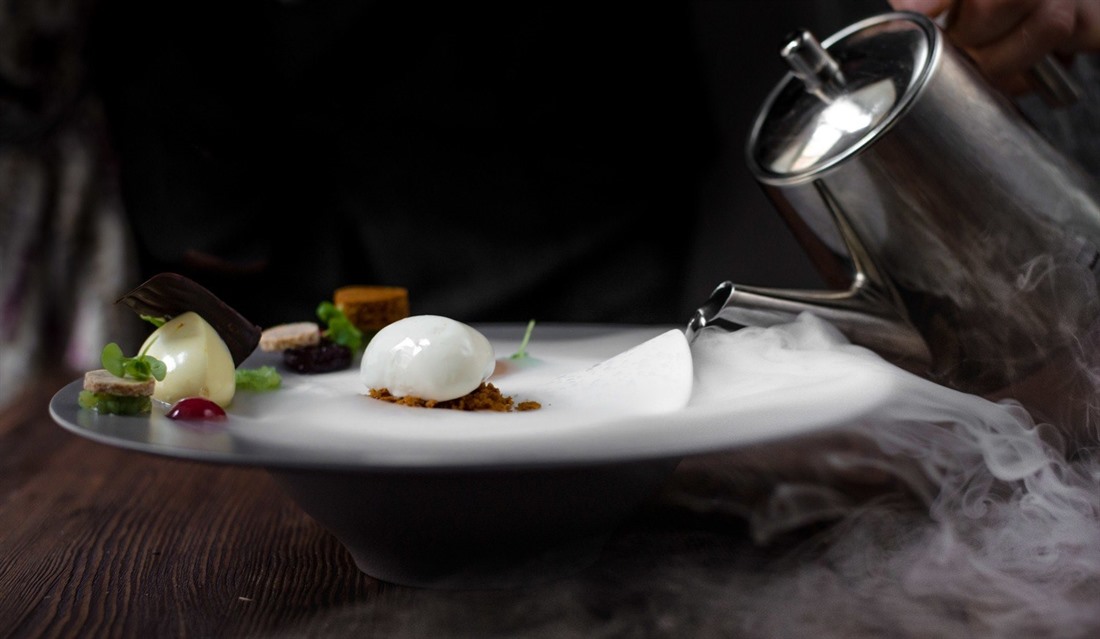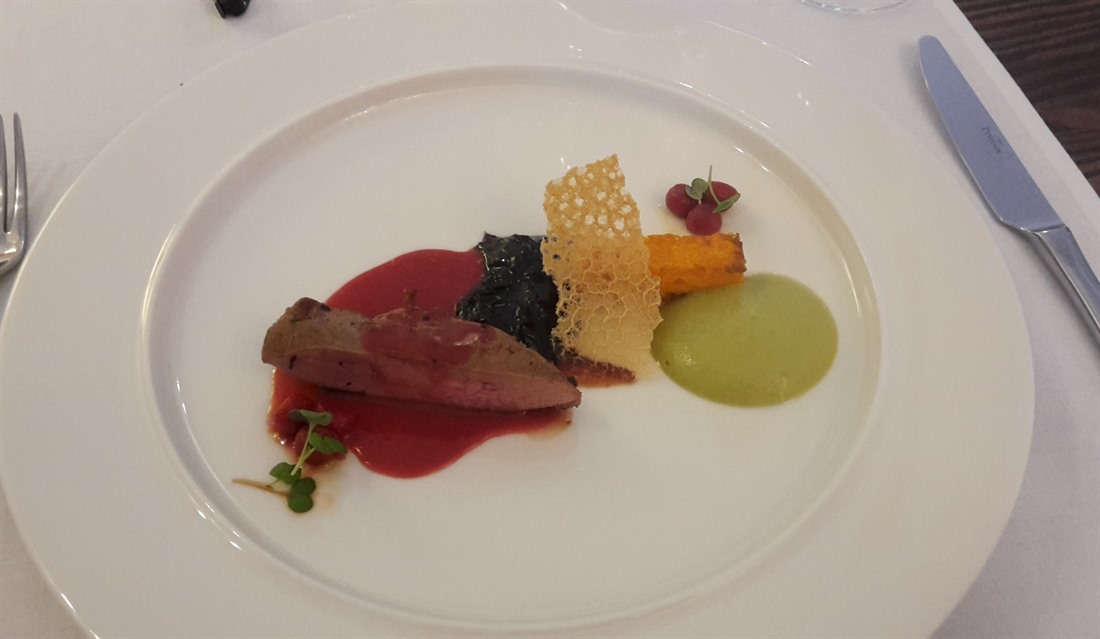 Our main course was a scrumptious duck breast served with an onion jam, carrots colored with beetroot, a beetroot and white bread sauce, bot kohlrabi foam and Italian lasagna with carrot cream. Lasagna was apparently brought to Lithuanian by Bona Sforza, the Italian wife of the Lithuanian Grand Duke Zygimantas The Old. Again, the paganist tendencies of the Lithuanians are never far away – ducks were bred in captivity for their meat, the Lithuanians never liked to eat wild animals for they believed they would take on the soul of that wild animal.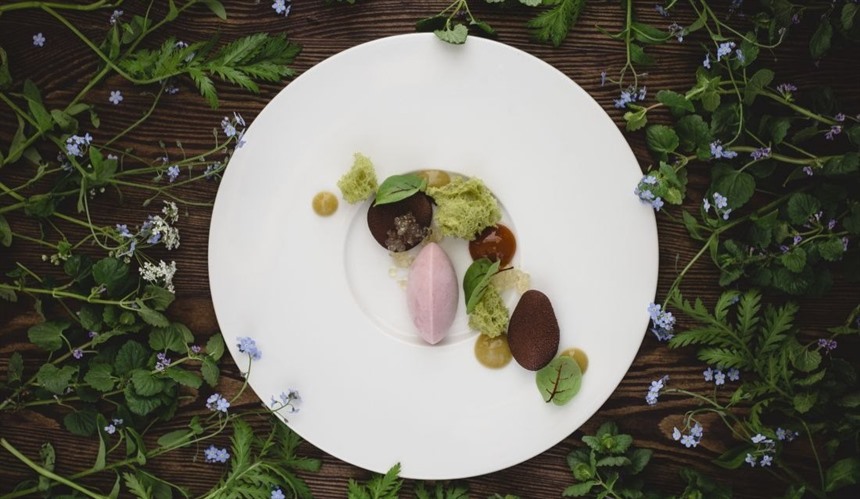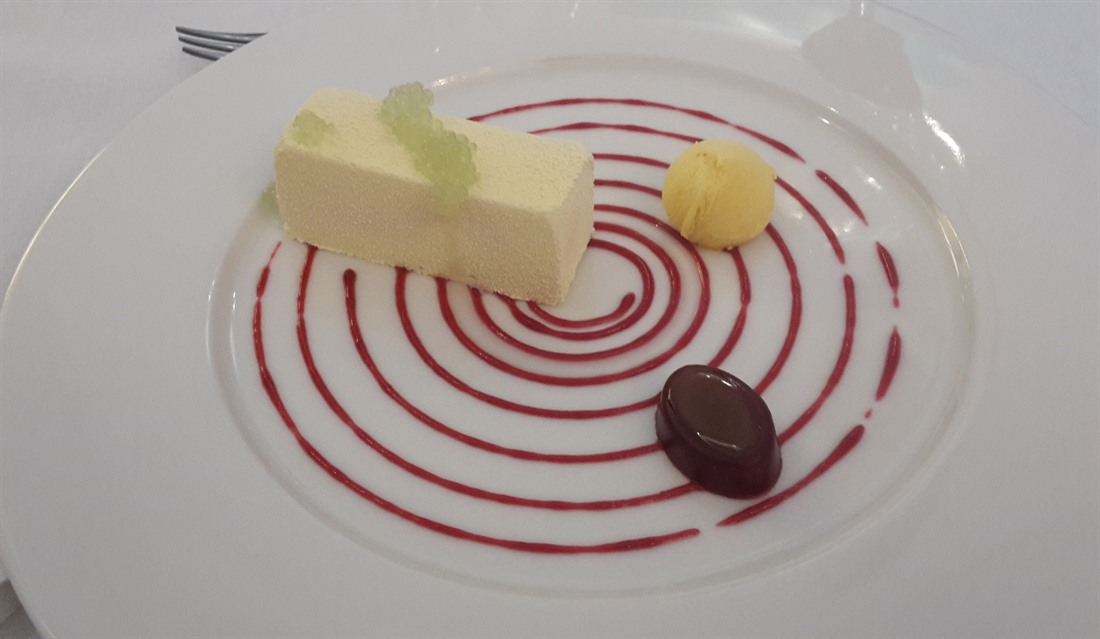 Our final course was the prettiest. Desert consisted of a cake made from buckwheat, coffee cream and marzipan, topped with delicate apple caviar. A small cranberry and caramel jelly and a yummy ice cream made of marzipan and saffron. The first ice cream came to Lithuania from Italy in XVI century but the first sorbets was brought in XIV century by the tartars, as they mixed mashed berries with snow or ice.
All in all it was a delicious, fascinating dining experience with not a single potato in sight.