The day was finally here that my 8 year old nephew had been looking forward to ever since we had told him we were going to Iceland on holiday. On the first morning Jack bounded out of bed with more energy than we thought possible after the previous day's very early flight, 3 hours spent in the Blue Lagoon and a fairly late night! I have never seen him get ready so quickly and a quick glance out of the window at the blue calm skies was extremely reassuring for my stomach.
The huge selection at breakfast in the Radisson Blu Saga temporarily distracted Jack from the morning's fishing as he practically inhaled pancakes, meatballs, egg, cheese, salami and enough watermelon to sink a battleship (excuse the pun). My sister and I rather enjoyed hitting the fresh juice bar – the "Green Morning" went down quite well – a delicious concoction of spinach, pineapple, apple juice, avocado and ginger! Jack wasn't so keen on "Beet It" with beetroot, mango and apple juice. And we all had a fiery shot of some ginger mix as I had read somewhere that ginger is good for nausea! Not that I was that nervous of being sea sick you understand!
It was a very pleasant walk to the harbour, where we met up with Special Tours and climbed aboard the Rosin – a really comfortable and fast boat that they also use for their Express Whale Watching Tours. The Sea Angling Tours usually go out in the afternoon from 5pm onwards but this was a dry run (bad pun alert!) to check all the fishing equipment etc.
We whipped out of the harbour with stunning views of Reykjavik and the angular Harpa conference centre shimmering in the bright Northern sun to our backs. Jack learnt about the possible whales he could spot on the afternoon whale watching tour before the serious business of fishing began. The crew explained how the fishing rods worked and put the bait on for us. It was all very easy!
Thankfully for an impatient 8 year old boy it was not long before we heard the cry "I think I caught a fish – somebody help me!" Indeed Jack had – in fact he had caught 2! The larger one we kept and the smaller one was released back to the sea.
It was a very proud "hands on the hip I'm a real fisherman" moment for Jack. We took turns and to my astonishment we all managed to catch something! We tried a few different areas before we had caught enough for lunch. The crew were amazing with Jack and we saw how they prepared the cod for the barbeque, served with new potatoes and a delicious garlic sauce!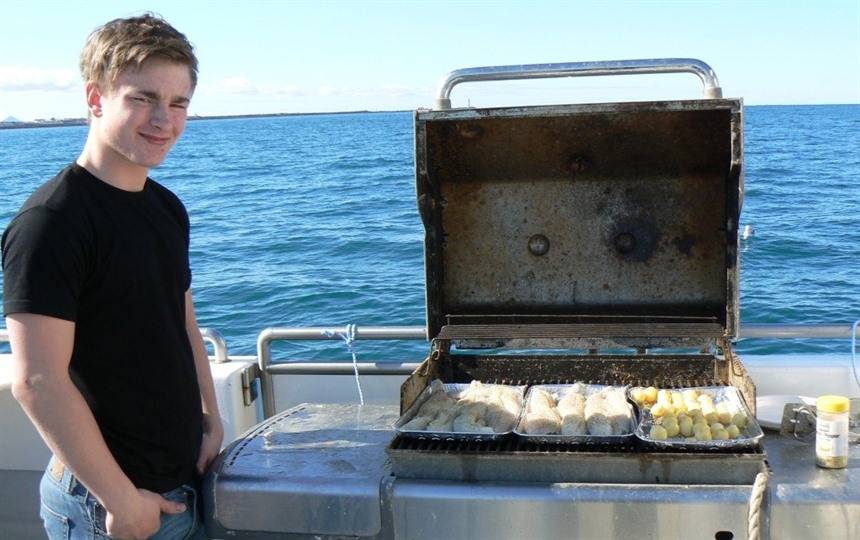 As Jack tucked into 2 large plates of fish with potatoes – the morning was declared a great success and a somewhat more confident Jack declared that he wants to be a fisherman in Iceland when he grows up. This is a great excursion, which I really recommend for anybody going to Iceland. They also include barbequing the fish for supper on board and it truly is the freshest most delicious fish you will ever taste!

Read more about our Iceland holidays
Find more inspiration on our social media #MyRegentMoment