I love city breaks. If ever I have a few days off work, I like nothing more than spontaneously booking a flight to somewhere new. Yet so many city break destinations have an air of similarity about them as you wander between grand public square and world-class art gallery, perhaps stopping off at a quaint coffee shop along the way. If you want something really different, there is arguably nowhere as unusual as Reykjavik, particularly within just a 3-hour flying time of the UK. With this in mind, I set off on a long weekend in November to the diminutive Icelandic capital for a city break with a difference. This wasn't just another place for traipsing around and ticking off boxes; instead, it was a gateway to exploring some of Iceland's natural wonders. These are many and varied, and the really great thing is that so much can be seen within just a few days.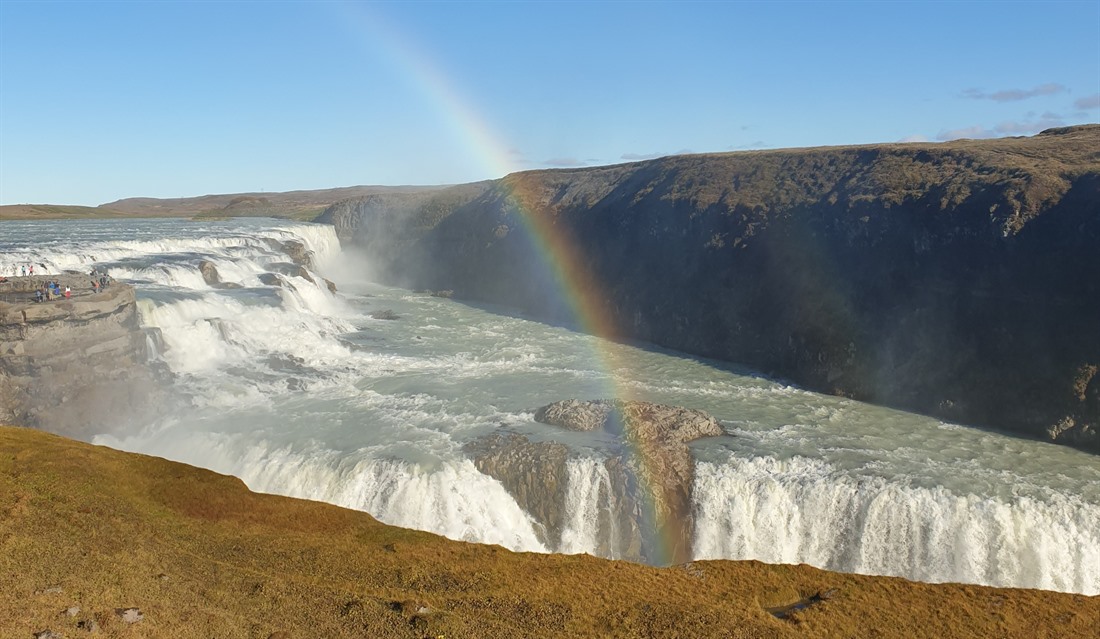 I arrived in Reykjavik after a smooth Icelandair flight from Heathrow followed by a transfer to the Hilton Nordica Hotel which was to be my base for the next four nights. The room was in line with Hilton's usual high standards, but with the added bonus of a view towards the sea and Mount Esja beyond. I spent most of Saturday getting acquainted with Iceland's capital itself, a compact city in which even the most important buildings are modest; the Parliament House looks more like a provincial town hall, and the Cathedral more closely resembles a parish church.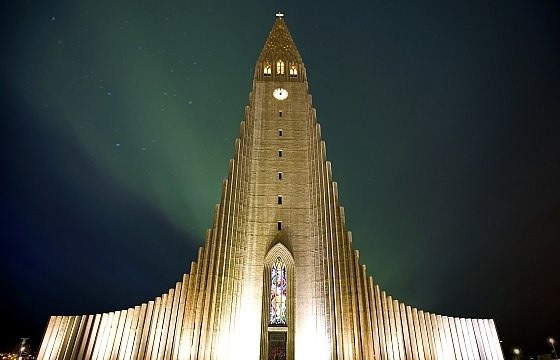 The one grand building in Reykjavik is the Hallgrimskirkja, Iceland's largest church, which stands atop the highest point in the centre. It is a stunning white stone construction but surprisingly bare inside. I enjoyed a few hours strolling at a leisurely pace around the city, admiring the colourful buildings and the boats in the harbour, where whaling vessels sit next to whale-watching ones.

After seeing all that Reykjavik has to offer, I was keen to explore the natural attractions of the island. It came as a bit of a shock to be picked up for the Golden Circle tour at 8:30 on a Sunday morning in winter to discover it was still pitch black outside, as at this time of the year the sun doesn't rise here until three minutes to ten. Pretty much every visitor to Iceland does the Golden Circle tour, which is a tourist tag given to a circuit of three of Iceland's most popular attractions. I was relieved therefore that the popularity of the tour is well justified.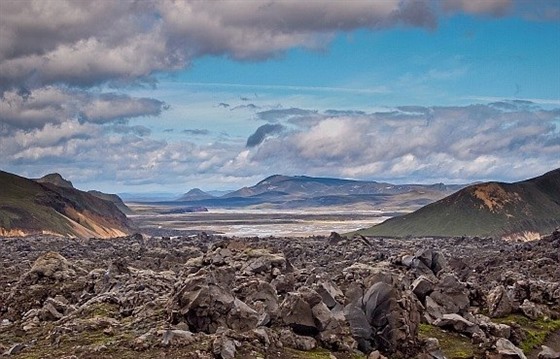 Almost as soon as we left the city, we began to see the island's stunning scenery, comprising bleak lava fields covered in moss with rugged volcanic mountains rising behind. This later gave way to wild grassy steppe populated by the gorgeous Icelandic horse, which are pretty much identical to the ones shipped over by the Vikings in the 9th Century.

Our first stop was at a geothermal plant, which is very important to Iceland as most of the island's energy is generated here from natural sources, namely the thermal springs which are heated by magma from the earth's core. We then made our way to Gullfoss, one of the world's most photogenic falls, into which deposits a wide, glacier-fed river which plummets over the precipice in two stages. We had time to view the top and base of the falls before continuing to Geysir, after which all other geysers take their collective name.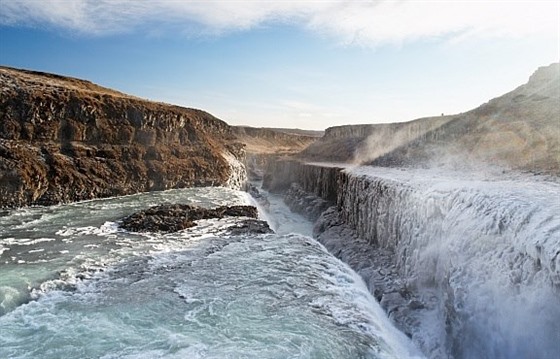 Geysir itself is currently sleeping, but nearby Strokkur reliably erupts every 5-7 minutes. The magma heats the water to boiling point, and eventually the pressure sends the water shooting up to 25 metres high – a truly breathtaking sight and the highlight of many holidays to Iceland.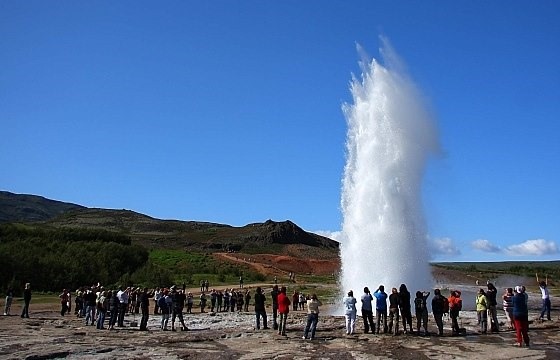 Before the pale sun faded away at just after 4:00pm, we had time for one final stop at Thingvellir National Park. It is hard to overstate the importance of this place. Geologically, it is where the Eurasian and North American tectonic plates, two of the world's largest, meet, separated by a rift valley 7km wide and extending by 2 cm every year. It was thrilling to drive off one tectonic plate and up onto the other, as if entering a new continent. Then we took a walk into the rift valley itself, where the world's oldest parliament was first held in 930 AD (and then through to 1798), and where both the conversion to Christianity and the independence of Iceland from Denmark were proclaimed. Even aside from the immense significance of the site, the setting was stunning and worth a visit in its own right.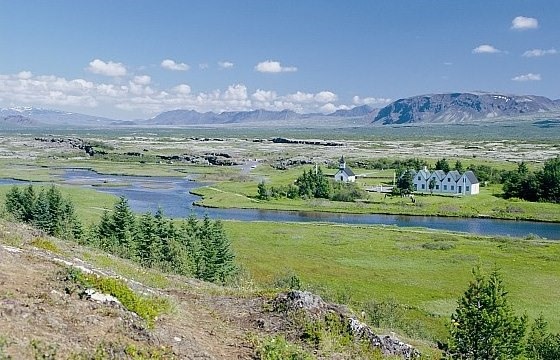 By the time darkness drew in, I had become excited by a day of clear skies, signalling a chance to make an attempt at seeing the Northern Lights. A freezing night ensued, officially minus 2C but with a bitter wind-chill making it feel much colder. Unfortunately it is impossible to predict the lights, and even with cold, clear conditions (which are the best conditions to have), we only saw a few faint bits of activity up there and so my search for the Northern Lights would have to wait for another time. The good thing with Iceland is that there is so much more to see as well as the lights, and so after six hours' sleep I arose again for another day tour, this time down to the South Coast.

This part of Iceland is far less visited than the Golden Circle, but in many ways was just as beautiful (though in a different way). We passed through the village of Eyrarbakki at sunrise (at around 10am) which was an important trading port in the 17th century, but is now a sleepy place full of quaint homes built from stone and corrugated iron and painted in bright shades. Later we went to two more beautiful waterfalls, Skogafoss and Seljandfoss, the latter of which we were able to walk behind for a different perspective and where we got thoroughly drenched.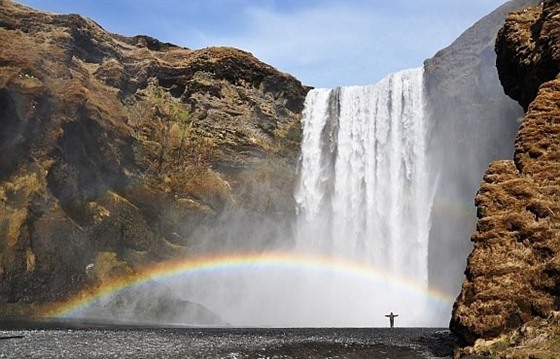 We saw some amazing coastal scenery of black lava beaches, impressive rock formations full of caves and high basalt hexagonal columns, and we went to the edge of a glacier which incredibly is 600 square kilometres in total, where I took my first ever tentative steps onto glacier ice. Another day to remember.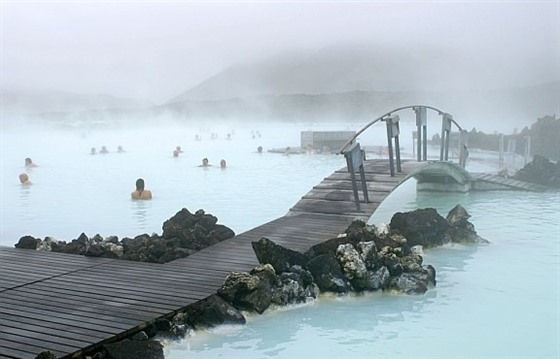 On my final day I headed off to the steaming hot blue waters of the Blue Lagoon, again sourced geothermally, where it was nice to relax after a hectic few days and to use the healing mud from the bottom of the water to rejuvenate my weather-beaten skin. It was a good opportunity to reflect on a really great trip, and one which I would recommend to anyone. The scenery is arguably as different as you can get in just a 3 hour flight from the UK and the winter weather is bearably cold (normally around 2-4C in the daytime). A Reykjavik city break is not really a city break at all; it's merely an introduction to a whole new world.

Visit our website to view my favourite Iceland Holidays
Find more inspiration on our social media #MyRegentMoment