To get under the skin of one of South East Asia's most intoxicating countries, Asia Travel Specialist Stef Studley travels to Papua New Guinea to meet jungle tribes, island communities and big characters in one of the world's last untouched wildernesses.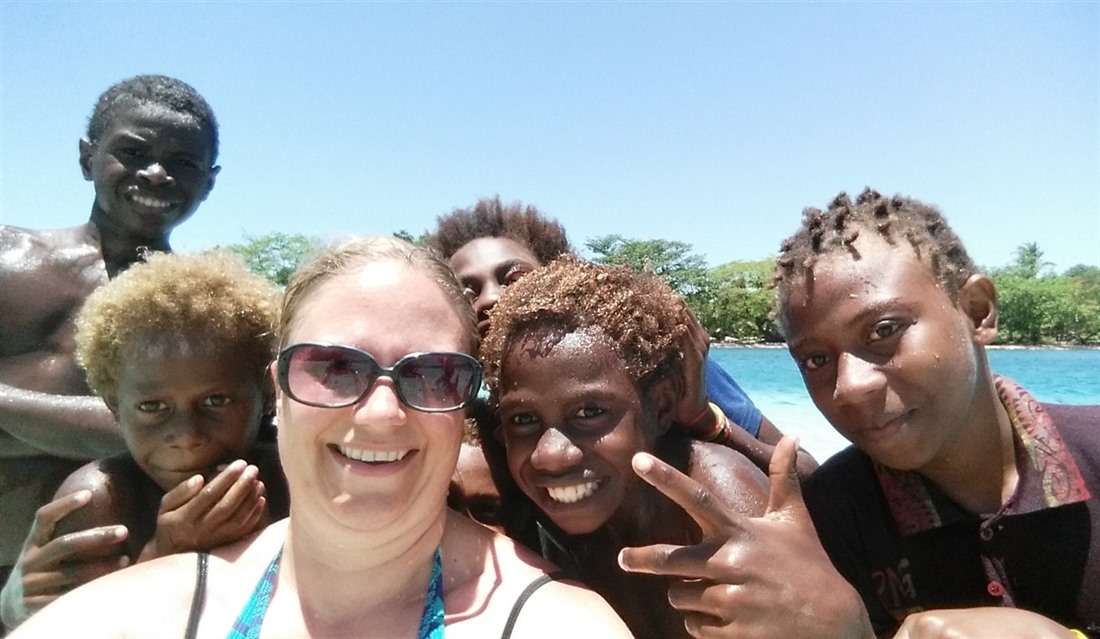 A metallic hiss announced the opening of the cabin door and a distinctly exotic fragrance flooded the plane. The heady, floral scent that reached my nostrils was unmistakable. Plump, white and yellow frangipani flowers litter the lush green islands that make up Papua New Guinea, their sweetness clinging to every drop of humidity hanging in the thick Southern Pacific air.
Just north of Australia, Papua New Guinea is one of the last countries on earth able to genuinely claim that it is unspoiled by tourism. Its lack of tourist infrastructure combined with perfectly preserved colourful traditions, verdant mountainous regions, idyllic remote beaches and pristine marine environments are precisely why PNG is one of the most compelling destinations for intrepid travellers.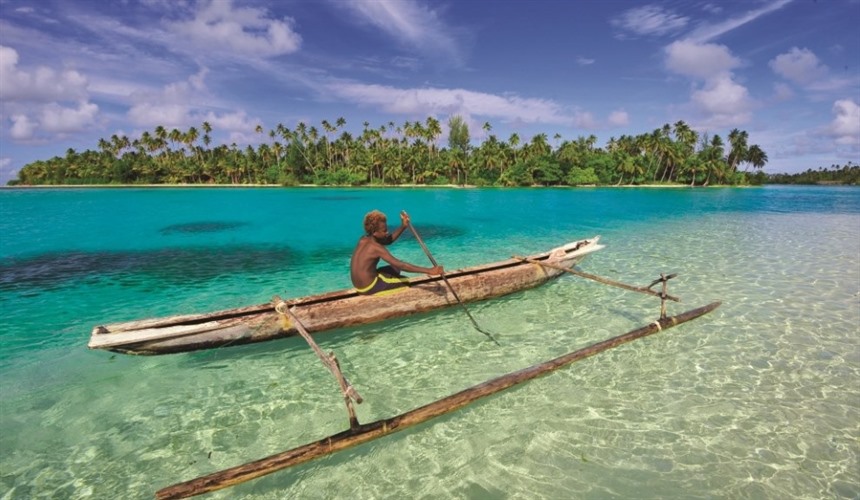 Coastal village, Tufi, sits on the tip of a mainland peninsular jutting into the Solomon Sea and is best known for its world-class diving. But we had arrived with a different agenda – from here, an indigenous jungle tribe that welcomes small groups of visitors is just a short boat ride away. We cast off from the tiny harbour in an old fishing boat, skirting around the craggy headland and marvelling at the glass-like clarity of the water, before tucking back into the coast and trading our large vessel for two shallow-bottomed outriggers. The small wooden boats had no trouble setting course inland; weaving upstream through the mangroves, slipping under low-lying branches and navigating spindly roots on a course deep into the jungle. We stepped ashore, our feet squelching in a thin layer of mud as our eyes scoured our surroundings, looking for any sign of the village we were intending to visit.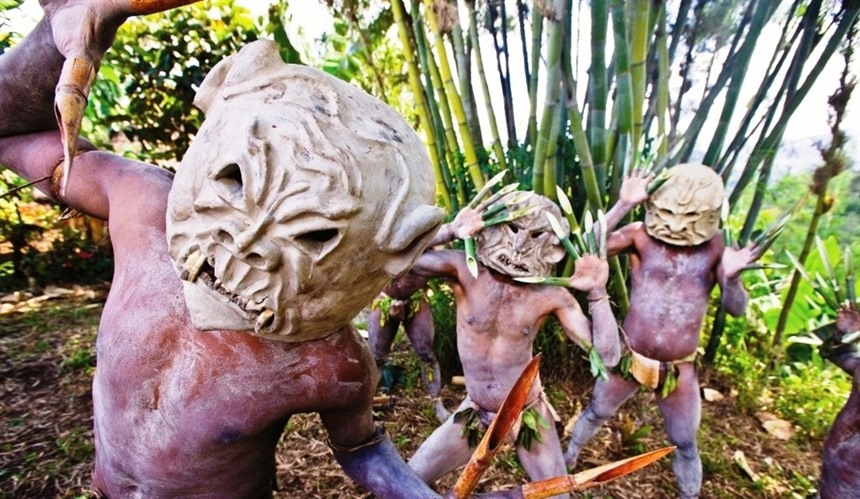 A sharp screech split the air. Two howling men brandishing long spears and decorated in tribal war paint came tearing out of the undergrowth towards us – we weren't welcome. As their footsteps thundered ever closer we looked to our guide, questioning his decision to bring us here. Confronted with our panic-stricken faces, a broad smile erupted across his face. The trees rang with laughter as he was joined by the warriors that had lowered their spears upon reaching us, content that their practical joke had had its desired effect.
After our initial terror faded, we gladly followed our new friends into their village where we were greeted by curious children, tugging at our clothes, and adults adorned in magnificent headdresses. This nature-lover's haven, nestled in a flourishing patch of biodiverse jungle, is an ornithologist's conundrum; rare birds of paradise flit freely between the trees, but their feathers are also used to craft the extravagant tribal crowns.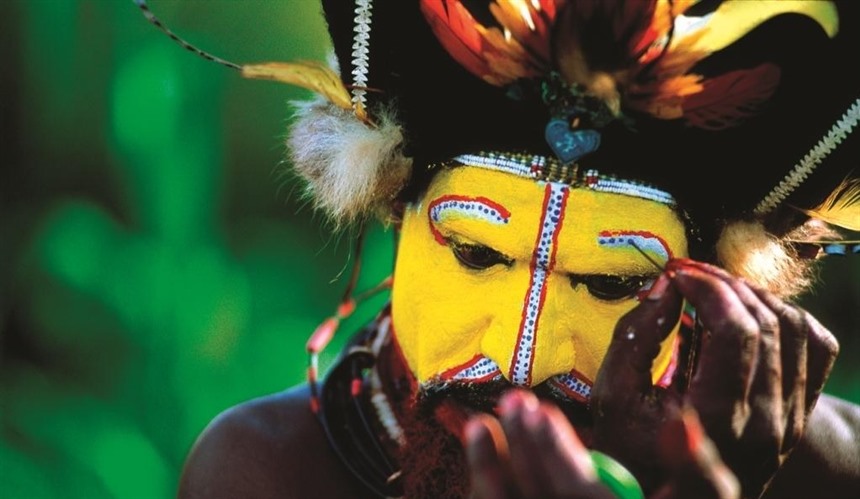 A traditional lunch of sago (a carbohydrate refined from tree pulp) and a dance display were followed by a customary facial tattoo ceremony, in which the parents of a girl reaching adulthood pick a design to decorate her face. Nowadays a form of henna ink is used, but looking closely, faded remnants of permanent patterns were etched onto the faces of some of the older tribe members.
We moved on to East New Britain province, a collection of islands large and small, and boarded another boat to reach a particularly small cluster – the Duke of York Islands. Clear waters gleamed every shade of emerald and turquoise as we approached the bright white-sand beaches. Beaming children splashed in the warm waves and, after sharing our packed lunches with the friendly faces, we were tugged hand-in-hand around the village. Fascinated by our cameras, endless photos were requested and ferocious giggles greeted every image of their wide smiles and sun-bleached curls on our screens. It was with some regret that we left, but this was just a stopping point on our way to meet one of PNG's most famous characters.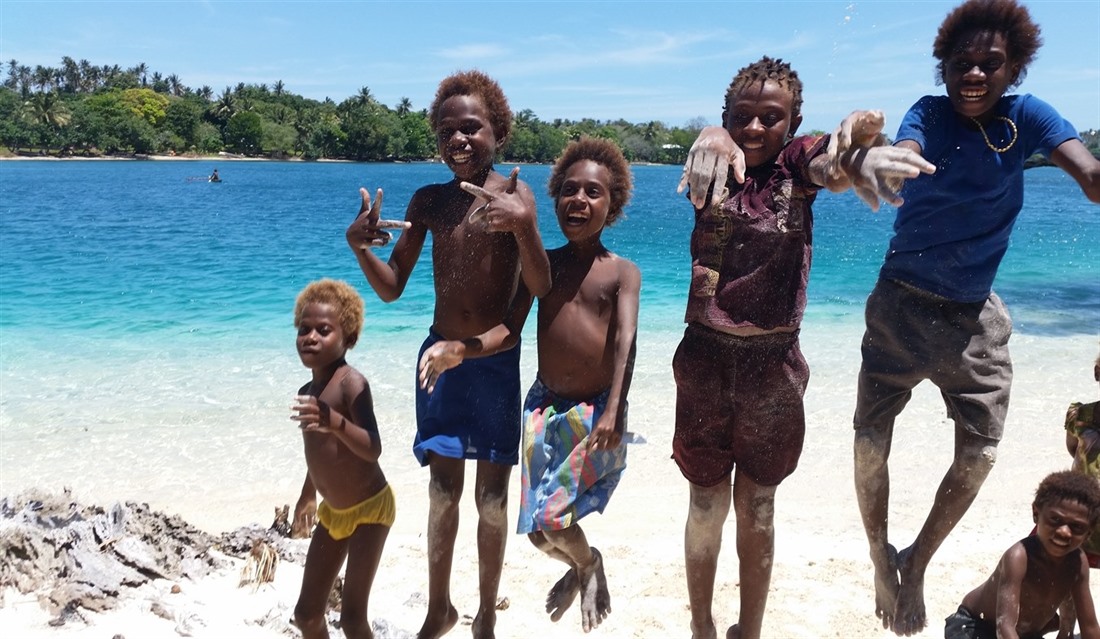 Just south, the island of New Britain is known for the most volatile of its inhabitants; Mt Tavurvur. The Papua archipelago was formed at the meeting point of the Pacific and Australian Plates, and while all the islands are volcanic, Mt Tavurvur took the headlines with a large eruption in 1994. Nearby provincial capital, Rabaul, was gradually buried by thick volcanic ash, prompting a move of the town and its residents to Kokopo.
Like the locals, we headed to Kokopo and settled into our beautiful wooden chalet rooms at the Kokopo Beach Bungalow Resort. When the light fell, we were invited to a ceremony that few tourists get the chance to observe. We were led to a neighbouring village and sat around a roaring fire, circled by tribesmen chanting and banging drums. Out of the blackness, groups of adolescent men sporting striking wooden masks emerged to dance around, and even through, the fire. Their bare feet kicked up the crackling embers, sending amber sparks blazing through the dark night. The distorted features of the masks cast strange shadows and created otherworldly silhouettes against the flames. Though native customs are still very much alive in Papua New Guinea, we were aware that this peek into traditional life was a privilege. After a while we gracefully moved on, allowing them to continue their celebrations unwatched.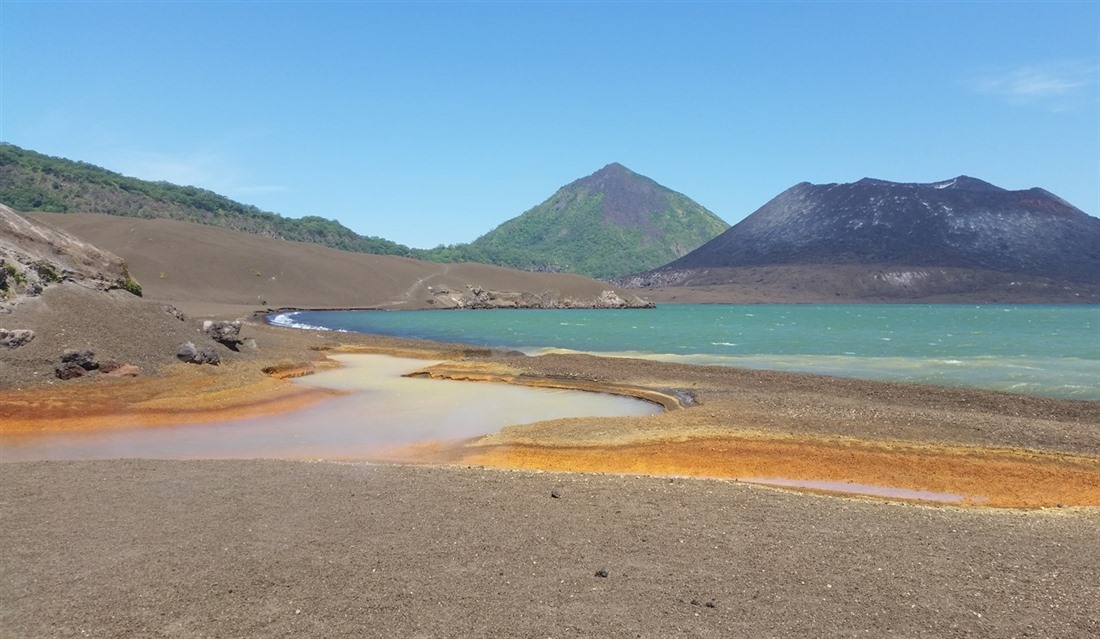 In the light of the following morning, we could clearly see Mt Tavurvur dominating the distant skyline. Just across the water it often smokes; a constant reminder that life here cannot be taken for granted. The road to reach it snakes through, or rather above, old Rabaul – where the roofs of long-forgotten buried buildings poke through the ground. Stepping onto the barren, lifeless volcanic soil, a powerful sulphurous stench caught in the back of my nose and I could feel the ground radiating through the soles of my flip-flops
In contrast to the lush vegetation matting the rest of the country, very little grows in the ash-covered region surrounding Mt Tavurvur. But as we turned to leave, our guide pointed to a bush sporting a smattering of white flowers. It seemed fitting that the first plant to slowly creep back through the desolate soil was the fragrant frangipani.
Connect with us. #MyRegentMoment
Images credit - David Kirkland.