Regent Holidays' Product Executive, Nyssa Hartin, travels to Alta in the winter months and shares her Arctic experience and highlights.
As a Canadian, I'm no stranger to snow and ice. Because of of this, my interests tend to lean more towards crystal blue oceans and tropical beaches than putting on my thermals and venturing out into sub-zero temperatures. But the opportunity to venture deep into the Arctic was too good to pass up so I dug out my warmest gloves and headed to the airport.

I was destined for the remote, arctic community of Alta in northern Norway. At approximately 380 km north of the Arctic Circle, Alta offers delightfully desolate arctic wilderness as far as the eye can see. Flying in, you feel as if you've entered another world where snow and ice reign dominant and unblemished blankets of white cover everything for miles in all directions – pristine, untouched and wild.

Alta is often overlooked by visitors to Norway, who instead flock to Tromsø – Alta's lively neighbour to the west. Tromsø is the largest city in Arctic Norway and offers a vibrant city feel complete with many galleries, museums and plenty of visitors seeking arctic adventures and northern lights.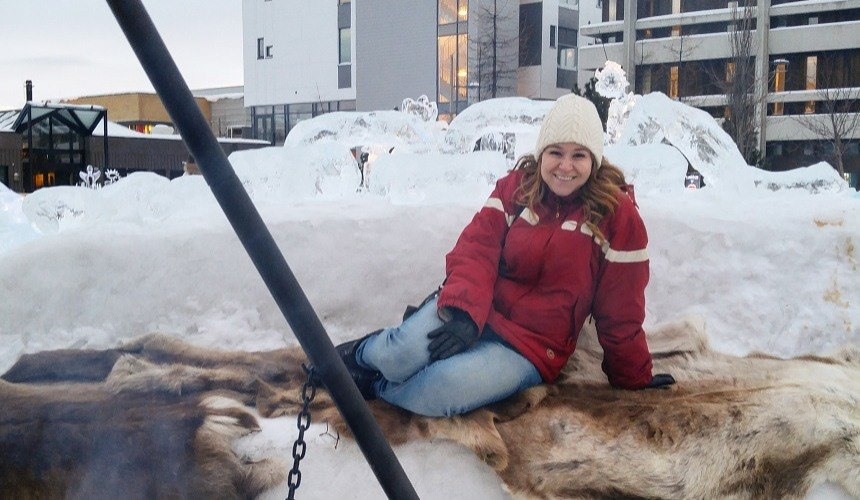 Alta provides a completely different experience. Think personal, intimate and authentic. With a population of just 20,000, visitors get to see a remote arctic community where winter activities are a way of life and northern lights hunting can be experienced without the hindrance of large convoys of tour buses.

The winter activities in Alta are all-encompassing and I got to try a lot of them including reindeer sled rides and Sami cultural experiences, snowmobile adventures and downhill skiing. All of this was incredible but there were two undeniable highlights that I would advocate as absolute musts: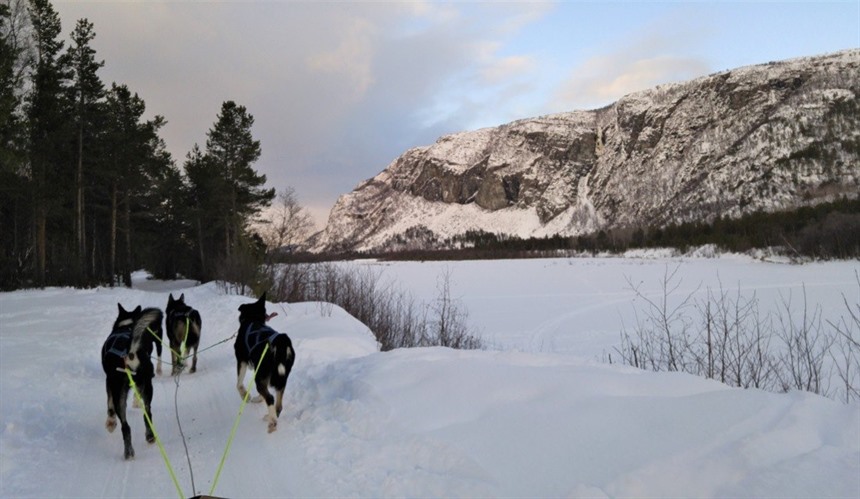 Dog Sledding
Dog sledding was an unexpected delight and a lot of fun. In Alta, dog sledding is still an important part of life for many, and several of the husky kennels which offer experiences for tourists are legitimate racing kennels, many of which prepare annually for the Finnmarksløpet – a 1200 km long dog sled race (the second longest in the world) where enthusiastic athletes and their husky teams push themselves to the extreme on an epic circuit from Alta to Kirkenes and back. I was in Alta during the race and I can tell you, it a serious event.

When we arrived at the kennel the excitement was palpable. Just that morning Hanna Lyrek, the winner of the 500 km race, had made it home to Alta and the kennel we were visiting just happened to be owned by her parents.

Here we were treated to the real deal – we worked in teams of two to find our huskies, get them into their harnesses and secured to their rightful spot on the sled. Then it was time for a brief instructional session, during which the eager dogs started to howl with anticipation. This melted away any apprehension I had about using these lovable beasts to pull me through the snow; they loved their work and would have happily gone without us! Their enthusiasm was contagious and before I knew it we were speeding into the snowy wilderness.

Mushing the sled was exhilarating and the scenery in Alta was spectacular. We sped through dense forests where moose are frequently spotted (we saw 2), across glittering snowy fields and along the rushing Alta River. Mushers are not simply a passenger, they are an active part of the team and I had to utilize balance and strength to maintain control! It was a spectacular day and I cannot wait to go again!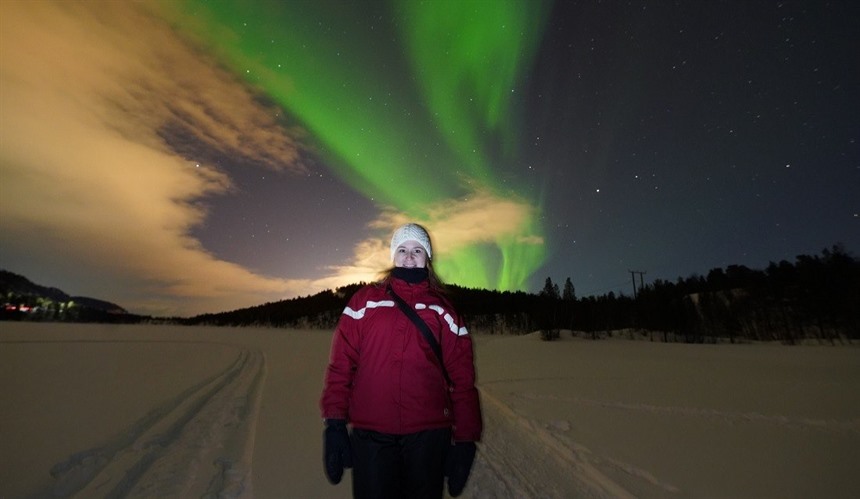 The Northern Lights
Aurora chasing was a completely different yet equally thrilling experience for me. Located directly under the northern lights oval and boasting a remarkably high number of clear winter nights, Alta has been dubbed the City of the Northern Lights and the city's reputation didn't let me down.

Witnessing the aurora borealis burst forth across the sky and dance in shimmering green tendrils was an ethereal experience, made all the more special by the peacefully clear sky and a beaming crescent moon.

My tour was a phenomenal experience from start to finish. First, we enjoyed a warm welcome of coffee and incredible fish soup (think big chunks of salmon in a delightfully creamy bisque) while our guide gave us an overview of what the northern lights were and what we could expect on our hunt. Then we boarded our minibus and drove away from the light pollution in search of clear skies. The auroras were out there and they were active (KPI 4!) – we just needed a window to the cosmos to take in the show.

Our guide was an expert and we ended up at a frozen lake where we saw a sensational show. We even saw some red (almost unheard of that far north) which the guide was very pleased with – you know when the guide gets excited that you're really lucking out! And best of all, we had the whole show to ourselves – just our little minibus and 12 friends.

Now, full disclosure, the northern lights do not appear as bright and colourful to the naked eye as they do in photographs. The technology in a camera lens is more sensitive to the colours and lights than our eyes are. As such, the reality of most northern lights shows tend exhibit much less colour than portrayed in photographs. Nevertheless, we saw a lot of movement, greens, a bit of purple and red all visible without a lens.
In Alta, I was continuously amazed by the spectacular scenery and this incredible feeling of remoteness. It felt as if I was alone in the world; just my friends, my guide, and occasionally our husky companions. In the end, Arctic Norway absolutely blew me away, from the thrill of the activities to the hearty food, the striking landscapes to the magic of the auroras. The Arctic was truly unlike anything else I'd ever experienced.
Feeling inspired? Take a look at our Norway winter holidays.
If you enjoyed this blog post, you'll love:
Northern Lights myths from around the world
Spotting polar bears in Svalbard

Find more inspiration on our social media