Borneo holidays often centre around exploring the lush rainforests in search of South East Asia's iconic wildlife. Thanks, in part, to the fact that Borneo is one of only two places in the world where orangutans can still be spotted in the wild. Our Travel Specialists are nuts about nature themselves and know Borneo inside out. To help you plan your Borneo holiday, we've picked the best places to visit to see the king of the swingers in person and meet all the other critters we love the most.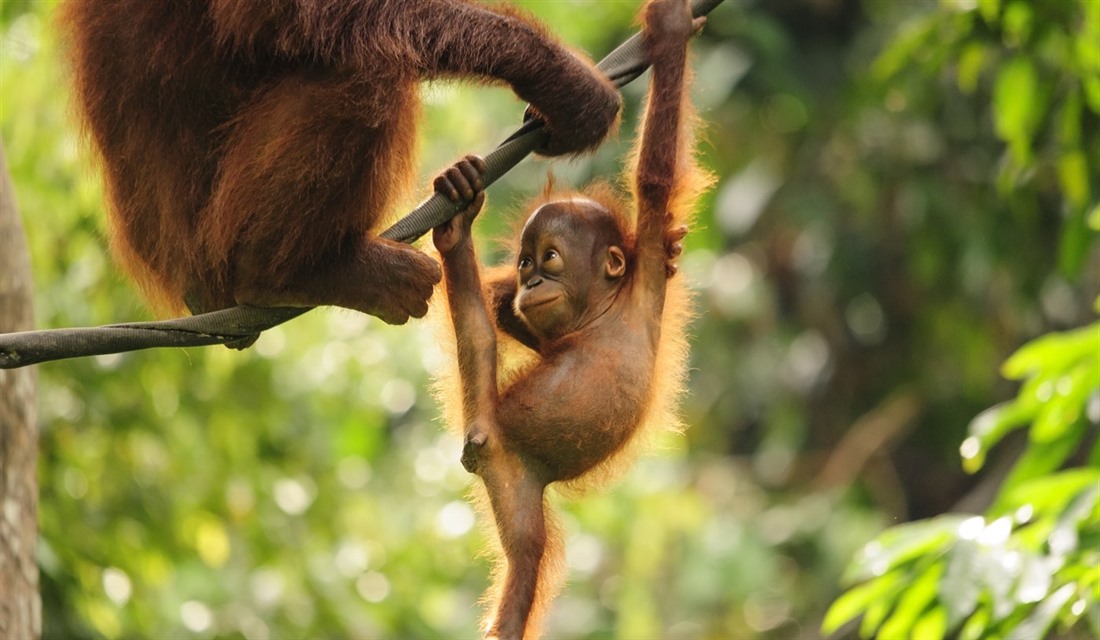 Wild orangutans
The jungles of Danum Valley Conservation Area and Tabin Nature Reserve are some of the best regions to explore in Sabah, as local guides know the habits and movements of resident wild orangutan families well. Boat trips down the Kinabatangan River also often spot orangutans swinging in the trees that overhang the water.
Batang Ai in Sarawak is slightly further from the beaten track, so trekking here suits travellers searching for an 'authentic explorer' experience where wild orangutans are less used to human visitors.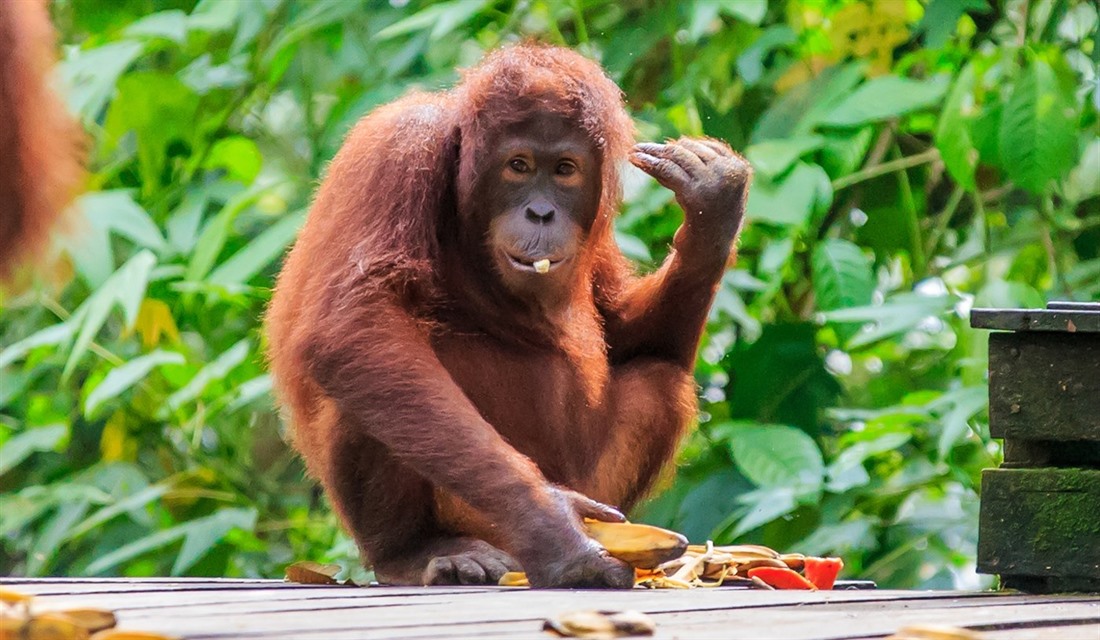 Orangutans in conservation
The good news is, no matter which state in Borneo you choose to visit, both Sabah and Sarawak are home to brilliant orangutan conservation centres. These schemes care for orphaned or injured orangutans and prepare them for release back into wild forest habitats. In Sabah, we recommend visiting the Sepilok Orangutan Rehabilitation Centre and in Sarawak, the Semenggoh Wildlife Centre is our top choice. While it's never quite the same as seeing these creatures in the wild, these centres allow you a closer peek at orangutan social interactions and intelligence as they play and feed.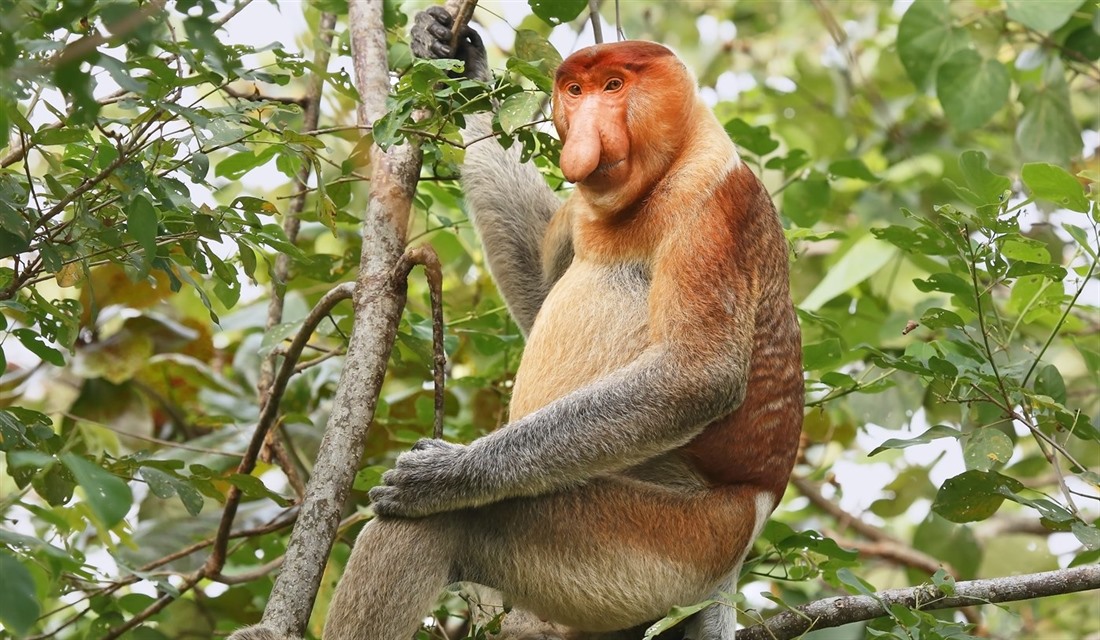 Proboscis monkeys
These long-nosed Old World monkeys are a close second on many travellers' Borneo bucket lists to the orangutans. They're also often easier to find. Days are spent foraging for fruits or relaxing by the banks of the Kinabatangan River – meaning wild sightings may be just a serene boat ride away. Bako National Park is also known for its large proboscis monkey population and overnight or day trekking trips can be arranged easily from Kuching.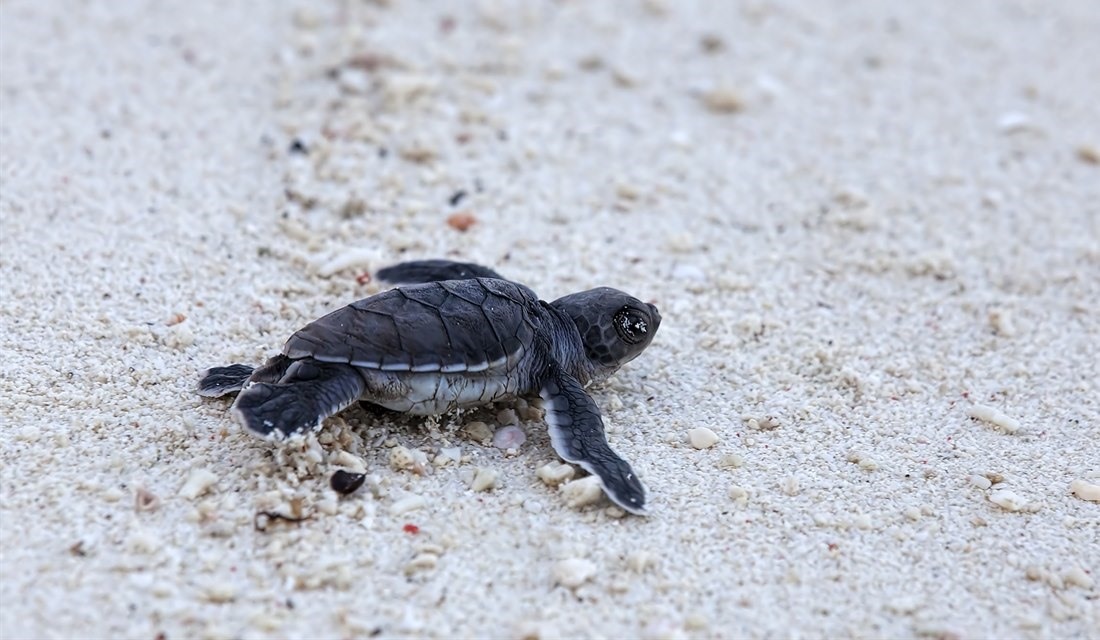 Turtles
Sarawak is known for its fantastic turtle sighting opportunities. Between April and September, endangered green and olive ridley turtles nest on the beaches of the remote Tanjung Datu National Park, Sarawak's smallest protected park. After dark, join a park ranger on patrol along the sands in search of mothers who have come ashore to nest and lay their eggs in the moonlight. Here a section of the beach has been fenced off to establish a safe turtle hatchery, protecting eggs from poachers.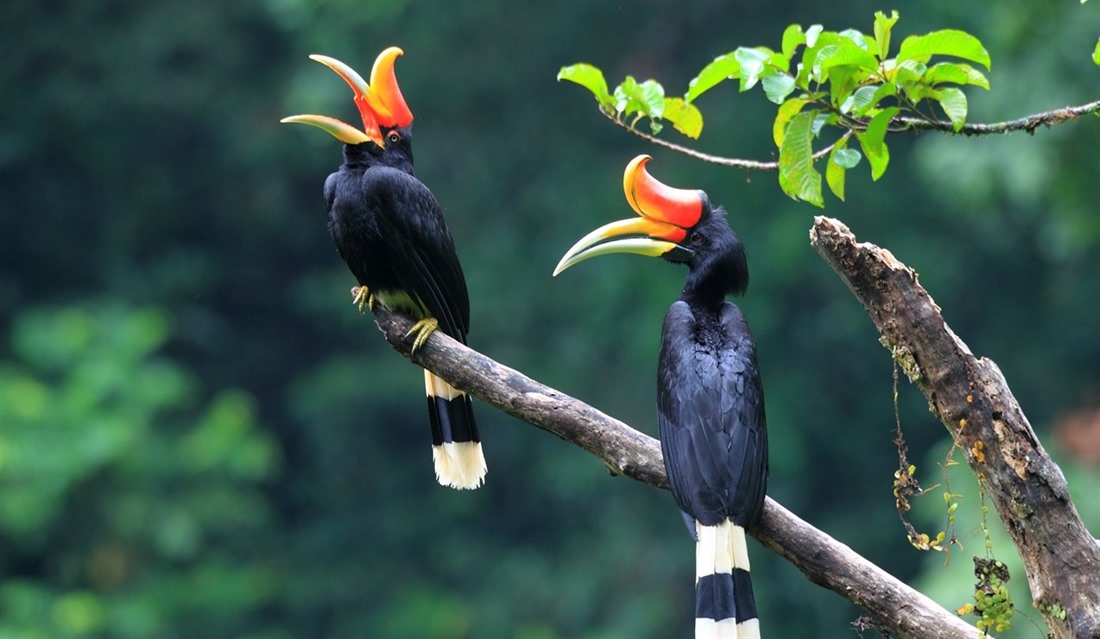 Bird life
The Kinabatangan River is one of the best places to spot birdlife. Along the banks of the river you're likely to spot striking Rhinoceros hornbills; one of the largest birds in the rainforests of Asia and are the official national bird of Malaysia. White-bellied fish eagles, amongst other birds of prey, and dainty kingfishers are also common sights on a boat trip.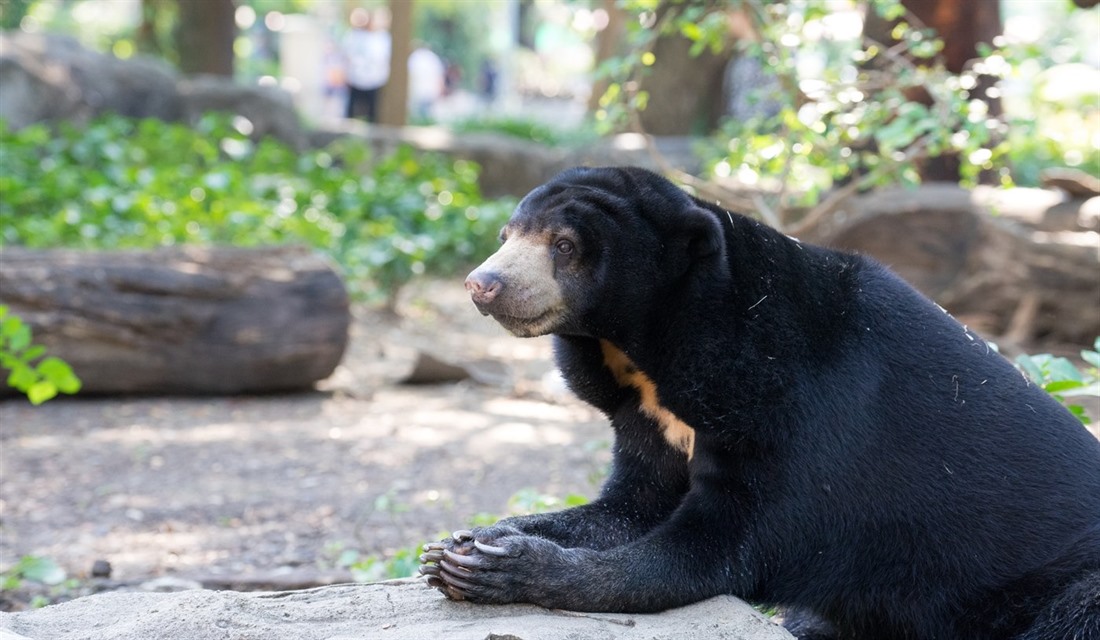 Sun Bears
In the wake of deforestation for plantations across Borneo, sun bears have lost a lot of their natural habitat and, with populations in rapid decline, can be very hard to spot in the wild. Rare sightings have been known at Tabin Wildlife Reserve – Travel Specialist Marianne spotted a mother and baby crossing the road on a night wildlife drive in 2016. The Borneo Sun Bear Conservation Centre is an option, allowing you to see bears in large protected areas of forest.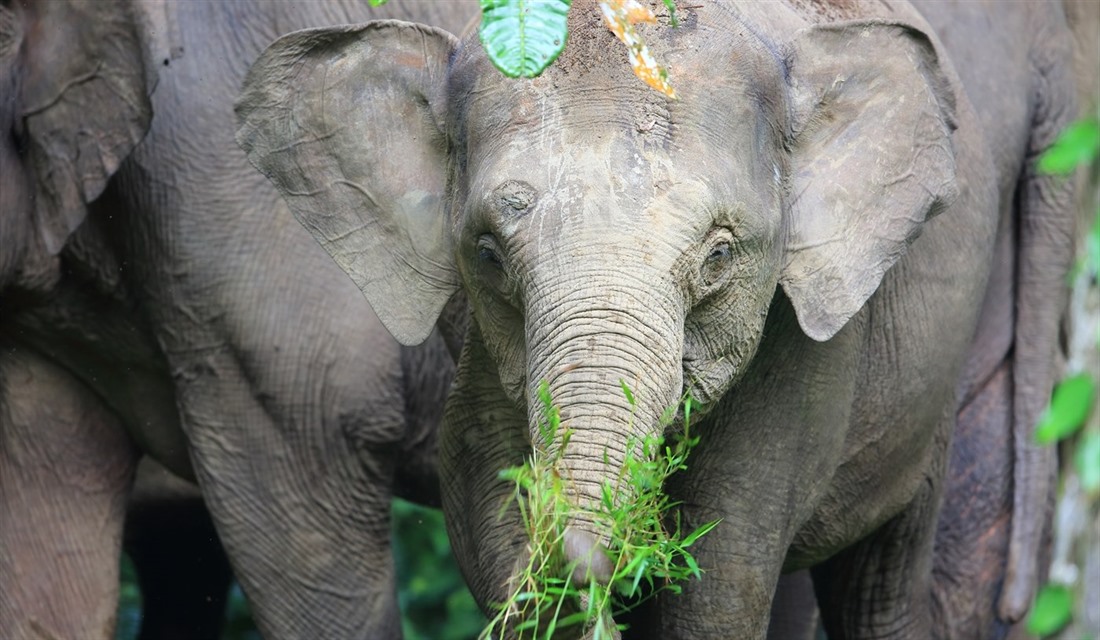 Pigmy Elephants
Another of Malaysian Borneo's more elusive wildlife, pigmy elephants can only reliably be found in Sabah. One population inhabit the region around the Kinabatangan River and can sometimes be seen in Tabin Wildlife Reserve or around Danum Valley Conservation Area.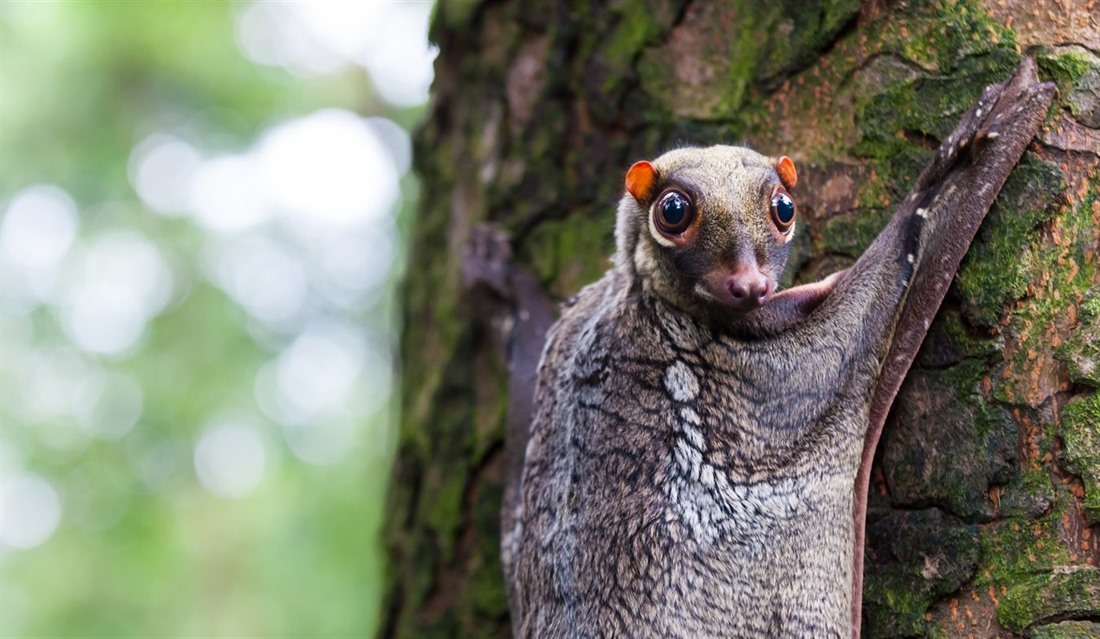 Flying Squirrels
While they might not be a big star of the rainforests, you're almost guaranteed to see these furry, flying creatures. Flying squirrels are a common sight in Tabin Wildlife Reserve, both leaping between the trees and scampering curiously around camp if you spend a few nights at Tabin Wildlife Lodge. MY Nature Resort, home to stilted eco-chalets, has a flying squirrel platform designed to give you the best chances of spotting them in flight, conveniently located by the bar.
Find more inspiration on our social media and share your photos using #MyRegentMoment