Kangerlussuaq is the only 'inland' area inhabited in Greenland . The climate is continental with very stable weather conditions so it is one of the best places in the country to experience the northern lights, with over 300 nights of clear sky a year. The climate here was the main reason the Americans chose this place for their airbase Bluie-West 8. If you go for a walk in the area, there are still remnants to see from that time.
A true wilderness destination, this short break in Kangerlussuaq provides the opportunity to experience nature at its most raw: reindeer and musk oxen call this region home and the mighty inland Ice Cap is just a few miles away.
We have included four amazing experiences on this winter break to Greenland including several visits to different parts of the Greenland's ice cap.
Tour Itinerary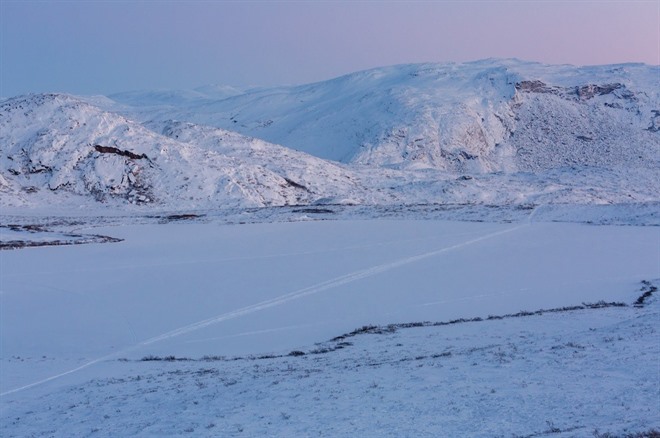 Fly from Copenhagen direct to the Greenlandic settlement of Kangerlussuaq. Enjoy magnificent views Greenland's ice cap as you descend out of the clouds to land in this incredible place. On arrival meet with local guide and check in to Hotel Kangerlussuaq, which is conveniently located next to the airport. Your home for the next 4 nights is the focal point for this small settlement, and its bar, restaurant and Café Isikkivik are a hub for tourists and locals alike.
Accommodation
Hotel Kangerlussuaq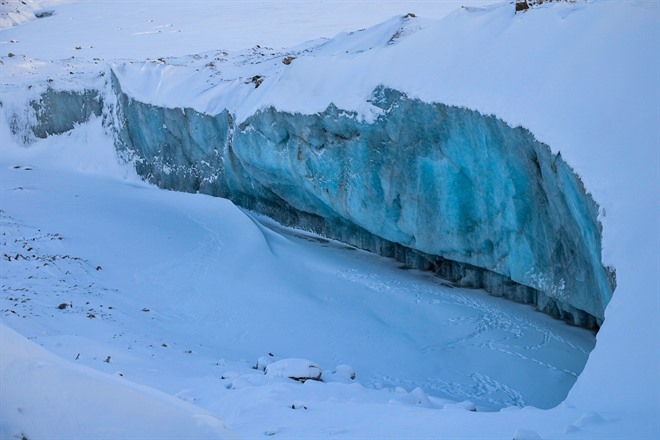 The Greenland Ice Sheet is a fantastic natural formation that has developed over millions of years as layers of compacted snow and ice, gasses, dust and water accumulated. Today's excursion to Point 660 begins, heads out past Kangerlussuaq's makeshift golf course, a miniature forest of conifers and a roughly 400-meter high cone-shaped rock called Sugarloaf. Drive through a stunning landscape of mountains, plains and semi-desert valleys. The final destination, Point 660, is nearby at the edge of the Greenland Ice Sheet. Its towering backdrop of glacial foothills stretches from north to south as far as the eye can see, and is quite a remarkable sight to behold. Here, explore the surrounding area on foot and breathe in the ice sheet's one-of-a-kind atmosphere. (B)
Accommodation
Hotel Kangerlussuaq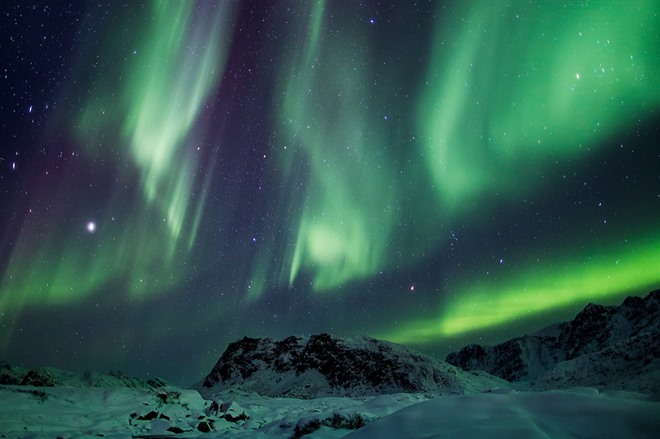 Today enjoy a 2-hour dog sledding experience. In Kangerlussuaq, the fjord offers a great opportunity for a sledding excursion across the frozen, flat ice, which can provide a more pleasant, smoother ride than when driving across hilly terrain. Included on this dog sledding excursion is the provision of the same type of outerwear and footwear that many drivers prefer, including warm fur clothing and good boots with appropriate insulation that can withstand the biting cold temperatures and wind.
The sled team will lead you over the fjord to enjoy the magnificent nature, as well as the love these dogs have for pulling the sled across the frozen terrain. Sled dogs work as a team with a clear hierarchy, where the driver is head of the pack. To begin, the driver will lead the team halfway, and then provide a lesson on how to control and care for the dogs. Before the excursion is over, there will be the change to drive the sled and lead the team.
Kangerlussuaq is one of the best locations in the world to experience Aurora Borealis. And on this 2-hour tour learn more about Northern Lights and the myths surrounding it. The guide will even prepare a rather delicious alcoholic Greenlandic coffee. (B)
Accommodation
Hotel Kangerlussuaq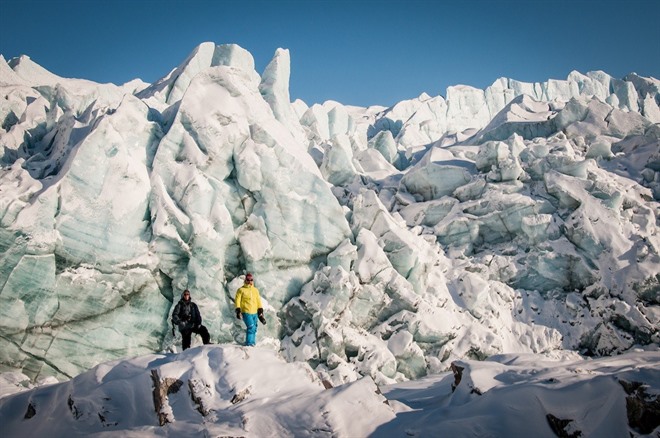 On this 5-hour excursion our destination is the strikingly beautiful Russell Glacier, which stands like a wall of ice – reaching up to 60 meters (197 feet) at certain points – in sharp contrast to the surrounding land and icescapes. Kangerlussuaq enjoys a distinguishing attribute as the only place in Greenland where you can literally drive onto the ice sheet – and it is located only 25 km from the settlement.
Drive out in tundra coach (4WD vehicle) designed to take on the rocky, changeable terrain and gravel roads. The journey takes around 90 minutes and en route lookout for wildlife, such as reindeer and musk oxen whilst listening to stories from our guide about the area's history. On arrival at Russell Glacier, take a hike along the glacier's edge, and simply enjoy its immensity. Here, the roar of melting and morphing ice structures are the only sounds that disrupt the peaceful silence. After an hour spent enjoying the fantastic glacial surroundings and nature's might, head back to Kangerlussuaq. (B)
Accommodation
Hotel Kangerlussuaq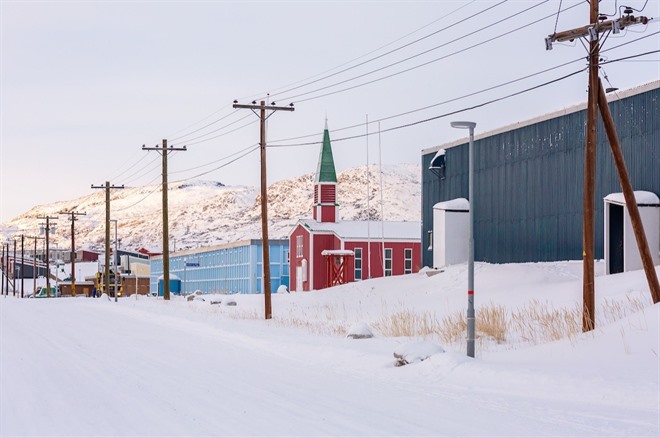 Today fly back to the Danish capital. Ask your Regent Specialist about adding a city break in Copenhagen. (B)
Pricing Information
5
day tour, from
£1695
per person
(Single person supplement + £350)
Price Includes
Return international flights from Denmark to Greenland
All airport taxes
Accommodation in 2/3-star Hotel Kangerlussuaq with breakfast
Meals as specified (B=Breakfast, L=Lunch, D=Dinner)
All transfers and transportation as specified
Excursion - Greenland Ice Sheet, Point 660
Excursion - Russell Glacier
Excursion - Northern Lights Evening
Excursion - 2-hour Dog Sledding Experience
Price Excludes
Travel Insurance
Tips and gratuities
Optional excursions
Price Notes
This tour departs every Monday from 16 Jan to 27 March 2023



If you would like your Regent travel specialist to help arrange transport to and from Copenhagen, as well as accommodation, please just let them know.
Image Gallery
Click on images to enlarge