Escape Europe's scorching heat this August and head to some much cooler, but equally picturesque, places in the world's remote corners. You can find some incredible ideas for a summer adventure from this curated selection of lesser-known locations. Whether you're a nature lover, an adventurer, a history buff, or all of the above, you'll find something to suit you. Embrace Iceland's cool breeze and breathtaking landscapes, the untouched beauty of Greenland, the remote charm of the Faroe Islands, and many other beautiful cities and rural lands.
Iceland
August is one of Iceland's warmest months, but as a cold country, it's still relatively cool, with average temperatures settling at around 10 - 15°C. This is an ideal climate for adventurous holidays, especially those that involve high-energy outdoor activities, which Iceland offers in abundance!
Perfect for a family holiday, our South Iceland Summer Break tailor-made tour takes you to Reykjavík, the world's most northernly capital, and beyond to the region's rural gems for five action-packed days. Embark on a whale watching tour in the capital, and explore the jewels of the Golden Circle, including Gullfoss waterfalls, Strokkur geyser, and Þingvellir National Park. Visit the volcanic beaches of Reynisdrangar and Reynisfjara to hear the roar of the Seljalandsfoss and Skógafoss waterfalls, and bathe in the famous Blue Lagoon - this will certainly warm you up!
Without the sun's pounding heat, you can feel Iceland's crisp mountain air on your skin, and the spitting of its waterfalls, so you can form a deeper connection to the country's natural wonders. Our North Iceland Arctic Coast Way Fly-Drive also allows this level of immersion, taking you along the winding coastline to lesser-seen villages lapped by the sea. Dip into the lives of bygone times as you explore these historical fishing villages, with the stunning wild coastal scenery as backdrop.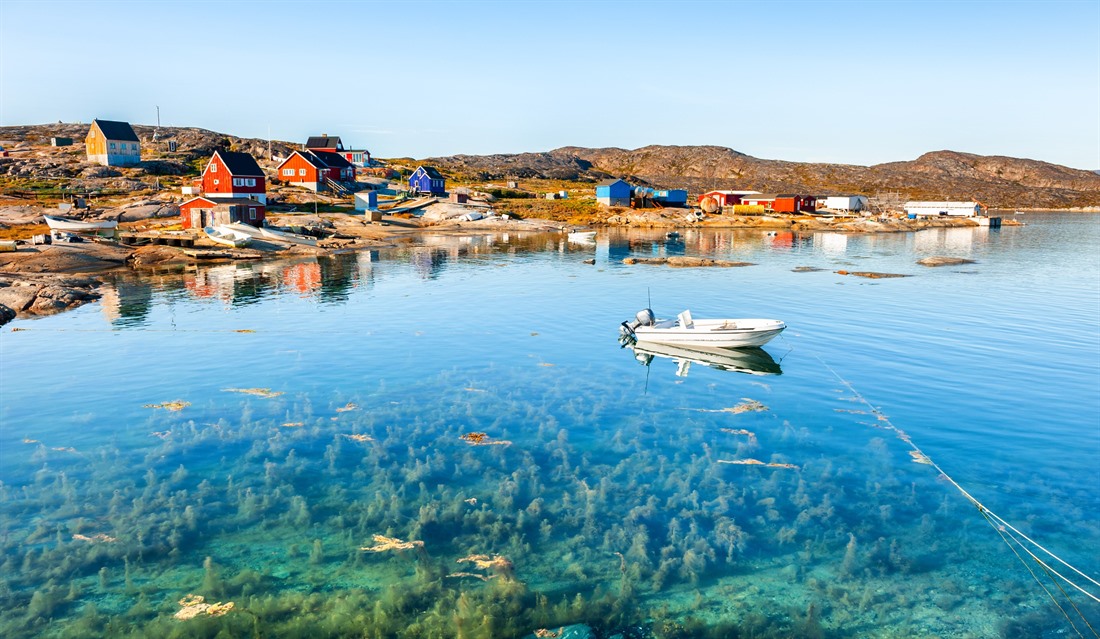 Greenland
With soaring temperatures of up to 10°C, summer strips away Greenland's thick layers of snow to reveal glistening green landscapes. The sun illuminates the majestic scenery, and an influx of rare Arctic species slowly arise from hiding. That said, touches of winter still remain in the icy fjords and towering icebergs, so you can experience the best of both seasons in one trip.
Our essential summer tour across Ilulissat lets you explore Greenland's wintery staples, undisturbed by the sun, including the huge icebergs in the UNESCO World Heritage Ice Fjords, and the old Inuit settlement of Sermermiut. You can also visit one of Greenland's largest and most active glaciers, Eqi, under the Midnight Sun.
You can see the beautiful settlements of Narsarsuaq, Qaqortoq, and Narsaq, and experience their distinct personalities on our tailor-made tour of South Greenland. Each settlement gives you a flavour of Greenland's complicated history, from its role in WWII, to its long-standing Inuit culture. This tour also takes you to the historic site of Brattahild, home to ancient Norse Ruins, and across the Qooqqut Ice Fjord to witness its mesmerising blue icebergs.
Faroe Islands
Nestled in the North Atlantic, the Faroe Islands exceed Greenland's summer temperatures, but only by 1°C, with an average temperature of 11°C. So it's an equally pleasant place to visit to escape Europe's humidity and embrace lesser-known territories. With regular rainfall, the islands' scenery oozes a new depth of green in August, and the wildlife is abundant. You have plenty of time to explore it all, too, with extended daylight hours.
The islands captivate with their otherworldly beauty, boasting rugged cliffs, majestic fjords, and colourful Nordic houses. Our Faroe Islands Summer Fly-Drive tour allows you five days to soak up as much of this unique scenery as you can. With your own hire car, explore the picturesque harbour and Nordic charm of the islands' capital Tórshavn, one of the world's smallest capital cities. Then, visit the quaint villages of Gasadalur and Gjógv, and the medieval churches of Kirkjubøur.
You can also explore Tórshavn and the other majestic islands that make up the Faroes on the Short Break in the Faroes Group Tour. Wind your way between the islands through narrow sounds on a relaxing boat ride, and visit the incredible Vestmanna Cliffs. You might even spot the famous rock formations, the Giant and the Witch, on your travels across the sea.
Northern Norway
On average, northern Norway's temperatures sit between 13 and 21°C in August, which qualifies as warm, but certainly not hot! Even so, you can safely don your t-shirts as you drink in the highlights of northern Norway's highlights, from the lofty mountains to the sprawling forests and deep fjords.
If you and the family are seeking an adventure into the unknown, the Family Adventure in Tromsø tour promises boundless excitement for you and your loved ones. Enjoy a four-night stay at the stylish Thon Hotel Polar as you explore your surroundings.
Whiz across the sea on a fast-paced RIB boat from Tromsø's harbour to the fishing town of Hella, and sail through the nearby fjords on an intimate catamaran. Back on land, hire an e-bike and cycle around the highlights of the city. Discover MS Polstjerna, Norway's best-preserved vessel, Bukta, Tromso's most beautiful beach, and Holt farm, the only farm on the island of Tromso. Nature lovers should save time to visit Prestvannet, the biggest lake on the island, as well as the sweeping nature reserve, and the bird sanctuary, which is home to a range of beautiful endemic birds.
Sweden
17°C is the average daytime temperature in Sweden, cool but comfortable, and ideal for a city break.
Stockholm looks especially beautiful in the sunshine, adding extra colour to its blend of historical architecture, waterways, and green spaces. On our Stockholm Summer City Break tour, you can spend four days exploring the stunning "Venice of the North", and you can do so with ease with a Citypass. On a hop-on-hop-off boat tour, cruise along the city's vast waterway network and visit as many museums and galleries as your heart desires!
You can travel further afield, to the wintery wonderland of Swedish Lapland on our Sun & Ice Summer Break tour. Spend the night at the world-renowned Icehotel 365, which is fully carved from snow and ice (and definitely not hot!). Then, travel along the mystifying arctic circle railway line to Abikso National Park to view the northern lights, from a chair lift if you wish, and enjoy some leisurely hikes under the Midnight Sun.
Finland
August's average temperature rests at 15°C in Finland, with the weather turning slightly autumnal towards the end of the month.
Helsinki can be a bit warmer, heated by the everyday hustle and bustle, which you can dive into on our Helsinki Summer City Break tour. With the centrally-located Solo Sokos Hotel Helsinki as your base (or another option in the city to suit your tastes), you have four days of freedom to explore the highlights with a Citypass, which allows free access to a range of attractions. Visit the Kiasma Contemporary Art Museum, the Military Museum, Helsinki Cathedral, and the 18th-centry Suomenlinna Fortress, a famed UNESCO World Heritage Site.
If you're craving peace, quiet and seclusion among Finland's thriving wildlife instead, then the Finnish Wildlife Wilderness Adventure is for you. Make yourself at home at the lakeside Hotel Kalevala in Kuhmo, right in the heart of East Finland's wilderness, and spend your days hiking through the verdant forests in search of bears and elk tracks. You can join an overnight bear watching excursion to see bears in the flesh, if they're not too shy, and snap some photographs. The summer months are the best time to see bears in the wild, as they're back in action after hibernation. You might also spy some wolves and wolverines stalking through the forests!
Estonia
Of all the locations we've highlighted, Estonia brings the warmest temperature in August, with heights of around 22°C. However, in the evenings this can swiftly drop to 12°C or below, so you'll still need a few jumpers in your suitcase.
Whether it's warm or breezy, Estonia's capital, Tallinn, still looks stunning in the sunlight, offering plenty of sights you simply can't miss. Spend four days here on our Tallinn Summer City Break tour. You have plenty of time to explore, as Estonia's white sun causes the summer days to be exceptionally short, or even non-existent. Take your time soaking up the atmosphere, strolling through the medieval cobbled streets winding through Tallinn's Old Town, Vanalinn, and gazing over the panoramic views of the Baltic Sea.
This tour also takes you out of the city to try some bog walking. Bogs are a very important feature of Estonian culture, and readily enjoyed rain or shine. Explore the cherished bog pools, admire the local wildlife, and climb up the watchtower to hear mysterious stories and legends about the bogs below.
Book your chilled August adventure with Regent
Now's the perfect time to book your Autumn experiences and embrace the brief bouts of sunshine in the world's Arctic realms. Contact us today to speak to a Travel Specialist and plan your trip of a lifetime.