After we transfer to the hotel and check in, we'll head out on bikes and cycle around all the temples, is that ok?"

We all looked up thinking – hang on, it's about 26 degrees outside and rather humid… Considering I hadn't ridden a bike for a few years I was slightly nervous about taking to the open road in Burma.

We freshened up and headed out of the hotel reception to our waiting 12-speed mountain bikes. Adjusted (saddles), stocked up (water) and protected (sun cream), we followed one-by-one along the tarmac road from our hotel towards Bagan's renowned temple speckled plains.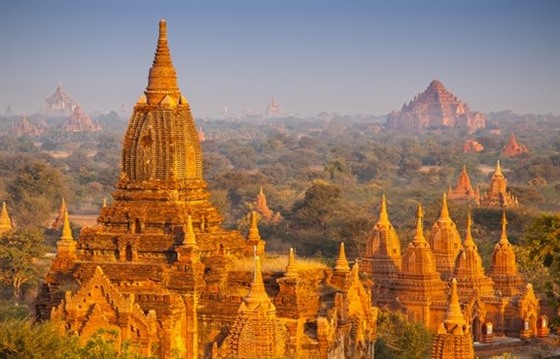 It's true – you never forget how to ride a bike! A shaky start but we soon got the hang of it – and just in time too as we turned off the smooth tarmac onto the dirt track roads which led to the temples.

Accompanied by our main guide and additional guides on motorbikes as well as a support vehicle, we were quickly put at ease.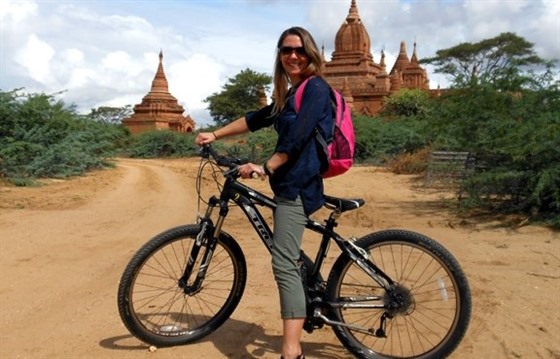 On our journey at handle-bar height we passed many wonderful scenes from crumbling stupas to farmers tending to their fields and locals going about their daily business.

The heat – once peddling along at my own pace – did not faze me. It was warm, but the cool breeze of the wind as I gathered speed was welcoming.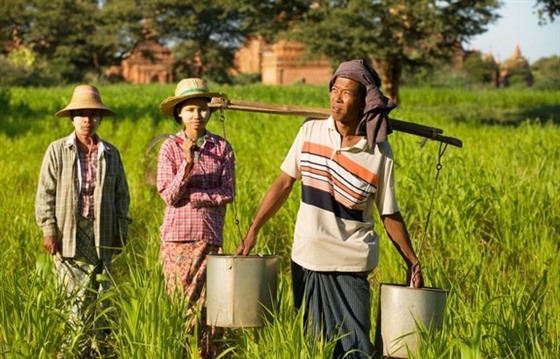 We took shelter under trees as and when we needed to and our guide talked to us about the area and its origins, the people who once lived here and the temples we passed throughout the ride.

About half way through our journey we pulled up alongside a large temple near to Pyathadar Temple – both of which were bustling with locals there to worship as part of their daily routine.

Shoes off and in we wondered past a huge sitting Buddha and into the cool of the temple's corridors. Navigating our way up a narrow stone staircase we arrived at the very top and were greeted with the most outstanding views I had ever seen.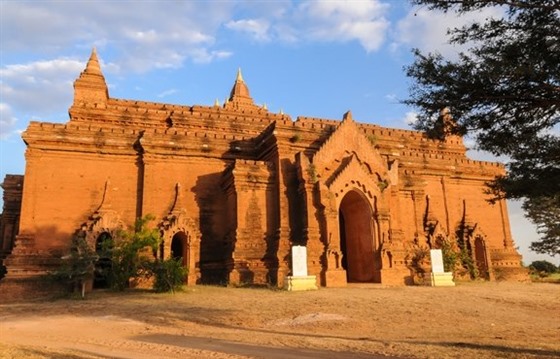 The skies were clear and you could see for miles and miles.

Thatbyinnyu Temple stood out with its white-wash walls which popped against the green of the trees and surrounding fields, with Ananda (where we were headed) in what seemed to be the far distance, and countless other temples and glinting stupas all marking the horizon with their distinctive architecture.

We sat quietly for about half an hour admiring the splendid panoramic views in the sun with the welcoming cool breeze from being high up.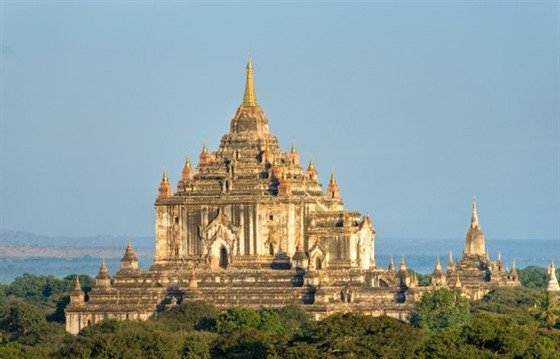 The final leg of our ride was well under way. Each of us found our own pace again as we made the final push.

Rejoining the tarmac road for a short while, we turned off one last time and there in front of us was one of the most revered temples in Bagan – Ananda Temple.

Built in around 1105 by King Kyanzittha, this beautiful temple is home to 9.5 metre high guilded Buddhas, each erected throughout different periods in time to represent the four Buddhas who had attained Nirvana.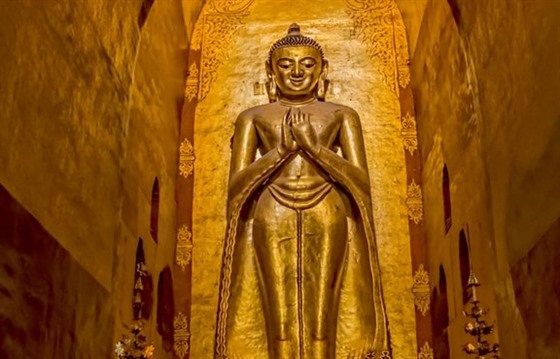 We walked through the covered walkway, instantly cooling down in the shade. The walkway was lined with stalls selling various wares and souvenirs as we entered into the west chamber.

We spent around an hour in the cool of the halls admiring the statues and small remnants of frescos painted hundreds of years ago. You couldn't get lost in this vast temple but I certainly felt as though I was in another world.

Read more information on our Burma Holidays
Find more inspiration on our social media #MyRegentMoment