Regent product specialist Daniele returned from a Finnish Lapland holiday in August. He discovered exactly how beautiful this northerly part of the world is in August and tried out a whole host of different activities, from horse riding to midnight sun floating.
One of the highlights of his trip, though, was the chance to visit all the hotels we offer in Lapland. Now he's back, we sat down with him and asked him to pick out his very favourite Lapland hotels. Read on to discover what he recommends no matter what time of year you're travelling.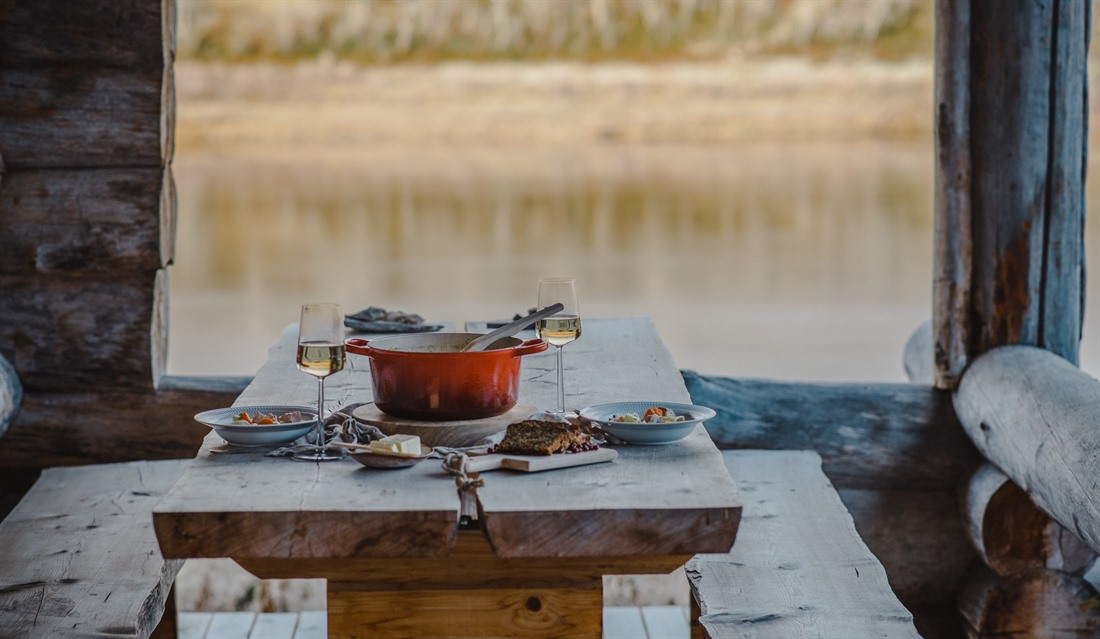 Paishill Lodge
Paishill Lodge is the perfect combination of wilderness and rustic luxury, set out in the middle of nowhere close to the Norwegian Border. Its setting on the Karasjohka River is utterly enchanting, and the tailor-made service provided by the owner, Jaana, is second-to-none. She's on-hand 24/7 to meet your needs, whether that's cooking, arranging excursions, or anything else you could want.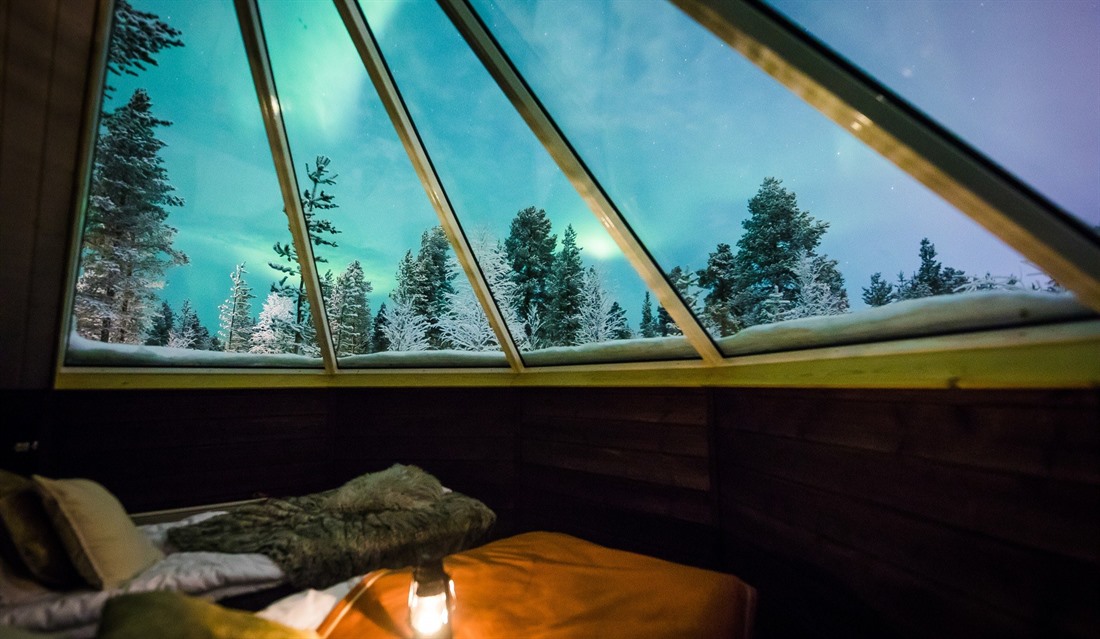 Aurora Village
Despite being just three kilometres from Ivalo city centre, you really feel like you're in the depths of the wilderness at the Aurora Village thanks to the forest all around. Sleep in stunning Aurora Cabins, which offer a fantastic view of the starry night sky through the heated glass roof (or, of course, the northern lights if you're travelling in the winter!). This is a really great option for families, with spacious accommodation options and plenty of excursions to keep younger ones entertained.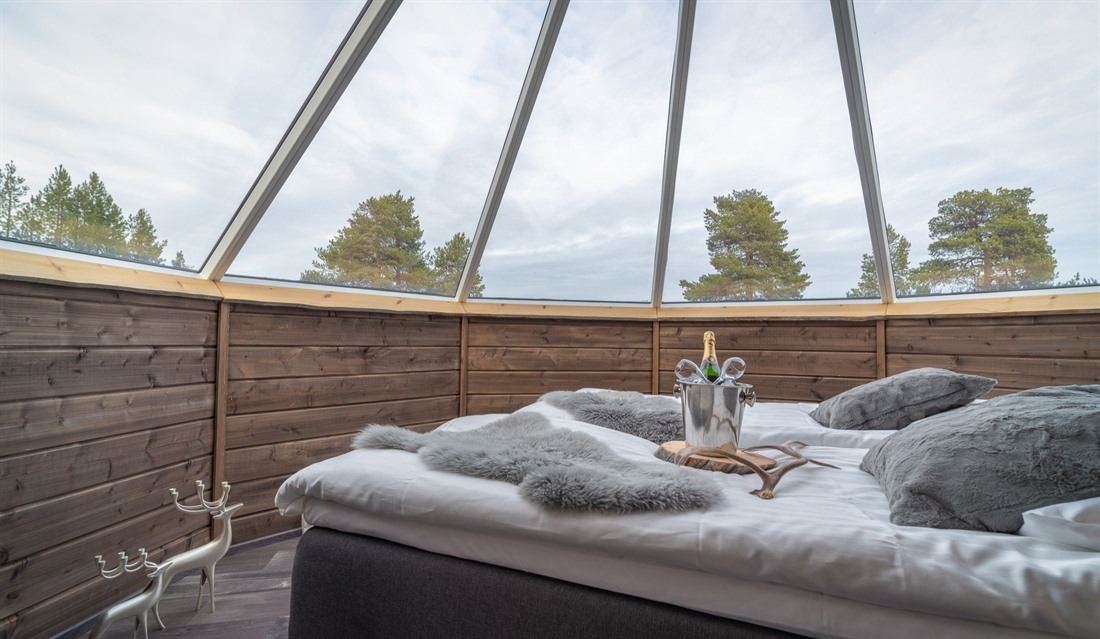 Wilderness Hotel Inari & Wilderness Hotel Nangu
These two hotels are part of the same group with superb standards and attention to detail, but each has its own unique charm.
Wilderness Hotel Inari boasts an amazing location on the shores of the huge Lake Inari, and you can make the most of its position in the hotel's private sauna, which offers a spectacular view over the water. In the winter, the lake freezes over and becomes a veritable playground for winter activities like snowshoeing, snowmobiling, and more. The restaurant is fantastic and has a great selection for vegetarians, and the two standards of room - Wilderness Rooms or Log Cabins - are both a perfect choice depending on your budget.
Wilderness Hotel Nangu is a much smaller, boutique hotel for adults only and perfect for a romantic retreat for two. Enjoy its secluded location in the forest and its excellent service.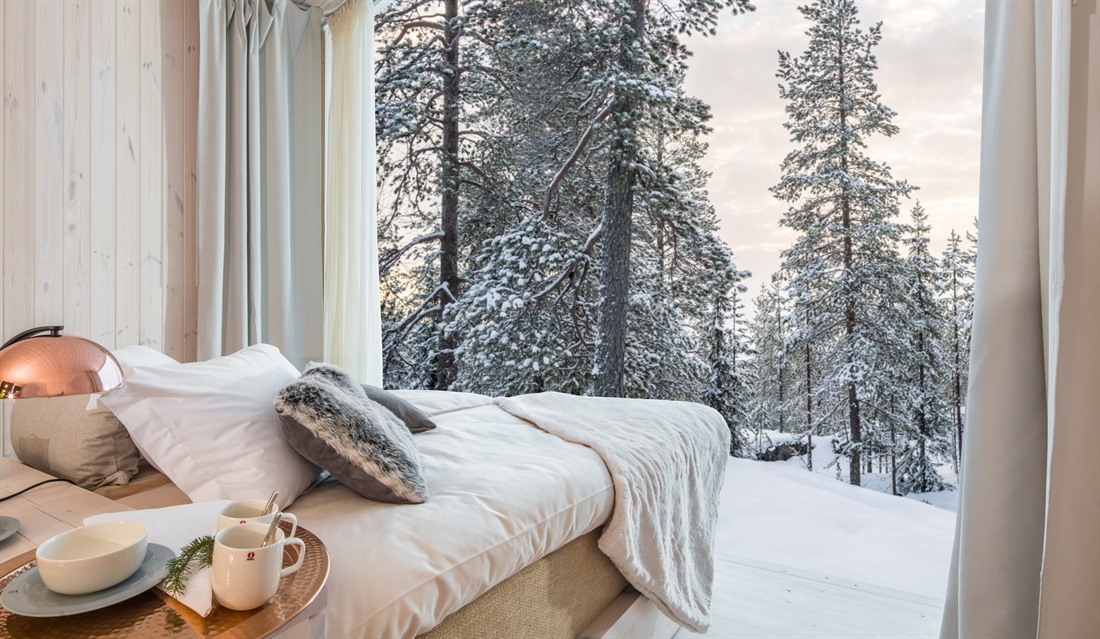 Arctic Treehouse Hotel
The Arctic Treehouse Hotel has a fantastic blend of luxurious comfort and back-to-nature charm in the heart of the Arctic wilderness. Just four kilometres from Rovaniemi Airport and six kilometres from the city centre, it's far enough removed to feel secluded but still close to Santa Park and Santa's Holiday Village if you'd like to meet the big man himself (and, now I have done so myself, I wholeheartedly recommend it no matter what time of year you're travelling!). The Arctic Treehouse Suites are a unique style of room with stunning views of the surrounding nature, all impeccably decorated.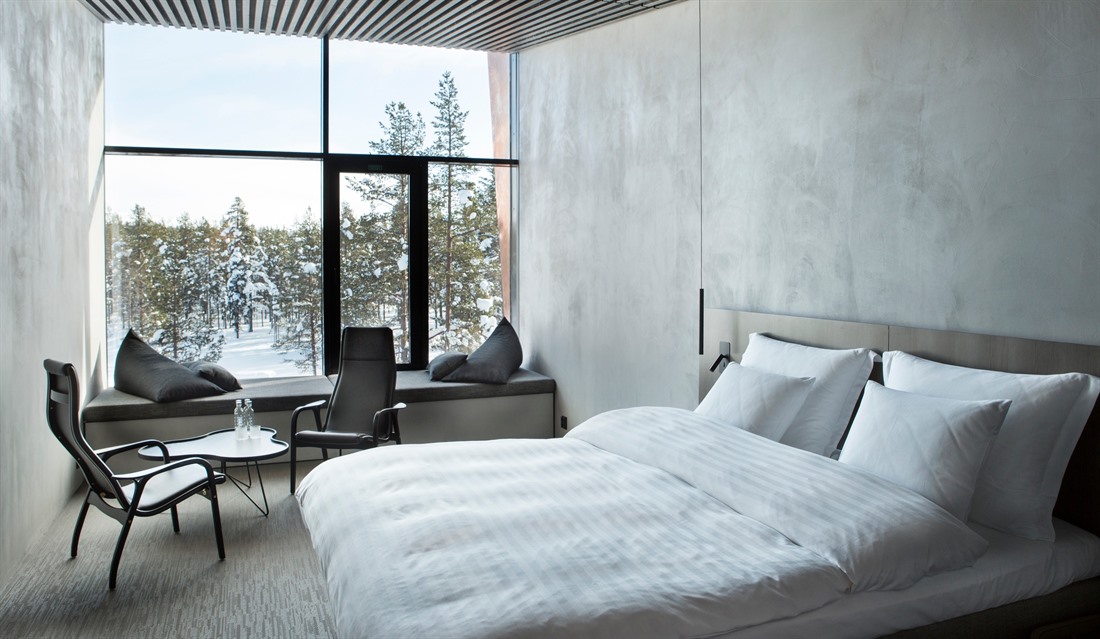 Javri Lodge
This luxury lodge lies in the middle of Saariselka in the northern reaches of Finnish Lapland. An adult-only, boutique hotel, Javri Lodge is beautifully designed and full of wonderful little touches that make it really special. The big indoor pool has a stunning, rustic design and stays open all the time for clients. The SkyView Suites, however, really steal the show. Their décor is immensely stylish and the views out over the wilderness all around cannot be beaten.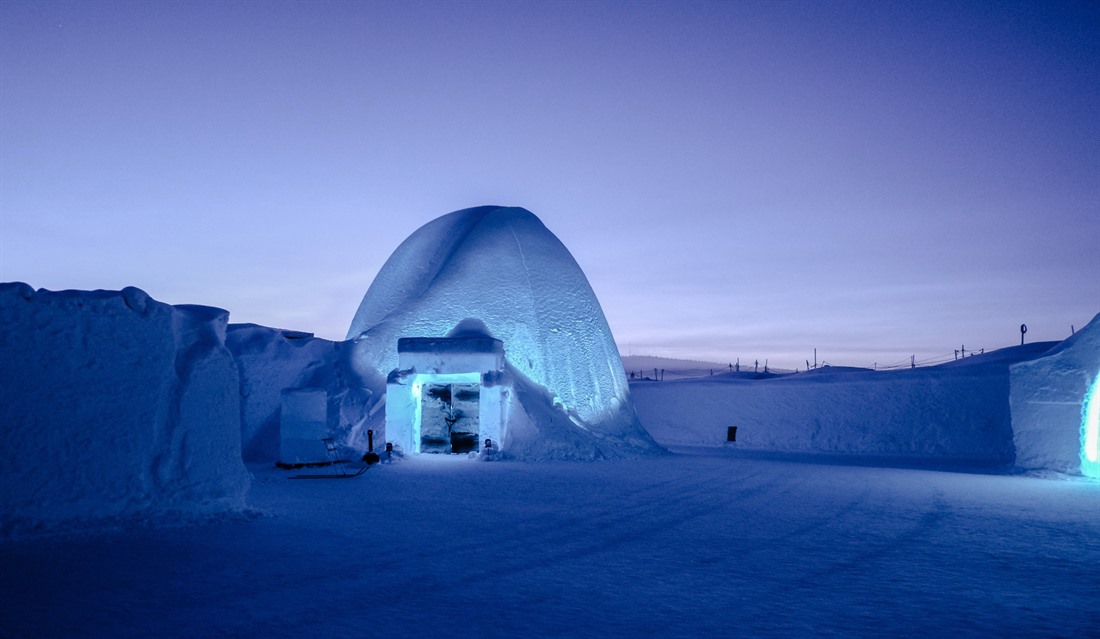 ICEHOTEL, Sweden
ICEHOTEL in Swedish Lapland is the world's first and largest hotel to ever be built entirely from ice. Each bespoke ice suite is individually designed and hand-crafted by international artists each year. The result? A seriously impressive winter wonderland that, thanks to the new ICEHOTEL 365 installation (essentially a giant fridge), allows visitors to sleep on a bed of ice all year round. Warm lodge rooms are also available, along with an ICEBAR and an ice art gallery.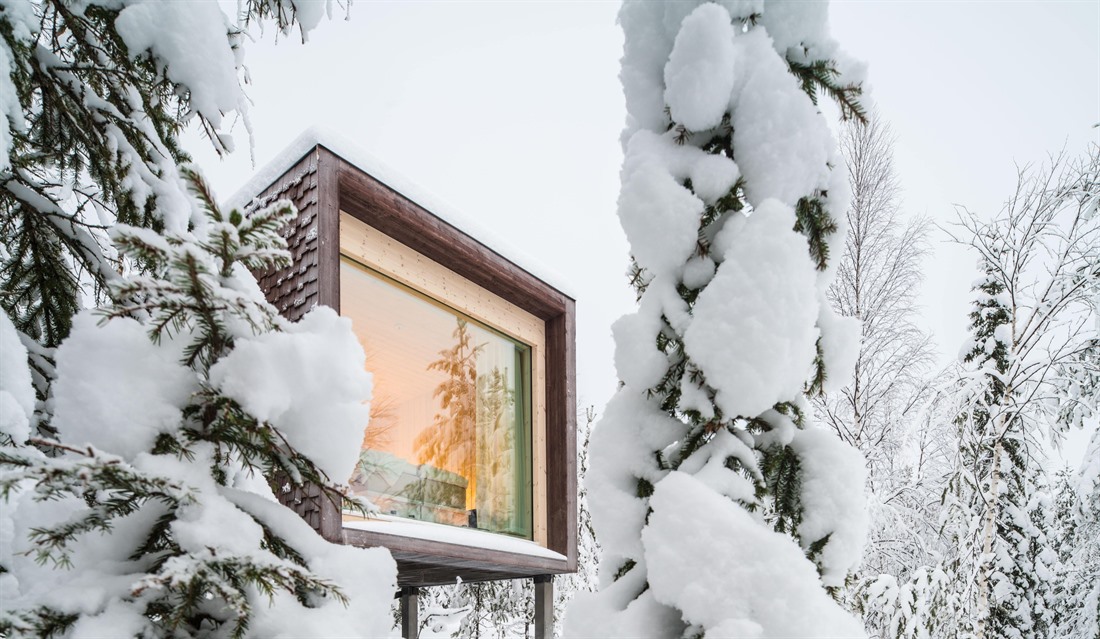 Kakslauttannen Arctic Resort, Finland
While Finnish Lapland is renowned for it's array of spectacular igloo-style accommodations, there's one that always dominates the headlines; Kakslatuttanen. The village of heated, glass-roofed igloos is positioned north of the Arctic Circle, where the northern lights paint the dark night skies during winters that last for around 200 nights. After rushing through the frozen Lappish landscapes on a snowmobile or pulled by a pack of husky dogs, the cosy double beds enjoy front-row seats to the aurora borealis.
Arctic TreeHouse Hotel, Finland
Home to Santa Claus and exhilarating excursions like reindeer sleigh rides, snowmobiling and husky safaris, Finnish Lapland is the place for kids of all ages - but nothing inspires an adult's inner child like spending the night in an actual treehouse. The Arctic TreeHouse Hotel offers glass-fronted rooms suspended amongst the trees in remote Lappish wilderness, each enjoying unfiltered views of the countryside and the northern lights.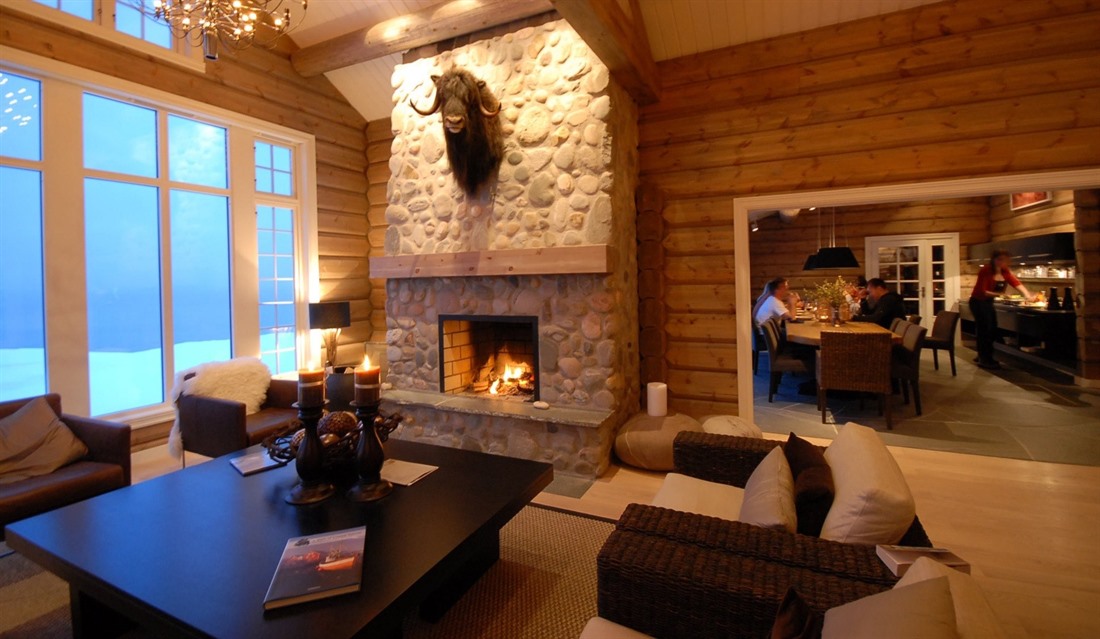 Lyngen Lodge, Norway
On the remote shores of Lyngenfjord, northern Norway, Lyngen Lodge offers an exclusive and intimate stay in the pristine wilderness. The beautifully designed lodge takes inspiration from traditional Scandinavian interiors, with peaceful neutral colour palettes, wooden furnishings and roaring log fires. Dog sledding, snowmobiling, ice fishing and cross-country skiing immerse guests in the snow-dusted winter environment before evenings are spent relaxing and tucking into hearty, freshly prepared meals.
Arctic Snow Hotel, Finland
Finland's answer to Sweden's ICEHOTEL comes in the form of the Arctic Snow Hotel, where 'ice rooms' are built entirely from compacted snow and glass-topped igloos await on the same site to add a few warm nights to your stay. Just 26 kilometres from Rovaniemi, Lapland's winter capital, the Arctic Snow Hotel is the perfect candidate for a short winter break that makes the most of Norwegian's new direct flights, connecting Rovaniemi and Gatwick.

Find more inspiration on our social media