Bradt's ground-breaking North Korea guide by Robert Willoughby was first published in 2003. This year the guidebook founder, Hilary Bradt, discovered that the DPRK is a country that continues to surprise. And then surprise some more.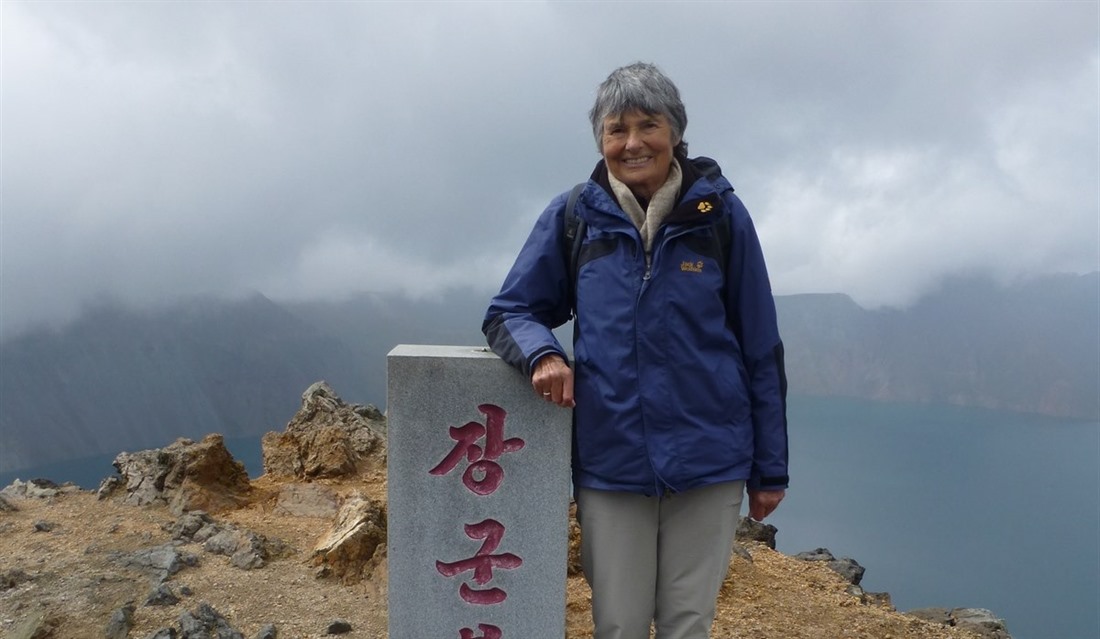 How do you describe a place as bizarre as North Korea? Well, where else would you ride in a helicopter fitted with flock wallpaper, a floral carpet, sofas and armchairs to arrive at a 150-room cave dug deep into a mountain, guarded by soldiers with silver-plated Kalashnikovs? In what other country might you climb to the peninsula's highest point, and then descend to a blue crater-lake down precisely 2,160 steps because that is a Great-Leader-specific number? On what other holiday, come to that, would you bow before 20-metre-high bronze statues, view an art gallery entirely given over to representations of former leaders, or admire a line of tractors, snug in their stables, and possibly unused since the Great Leader presented them to the collective farm a few decades ago?
North Korea, the DPRK, is unique. Unique as a country, unique in its government, and unique in what it offers to visitors. That's its appeal. So when Carl Meadows at Regent Holidays suggested I join their 18-day 'Pioneering' trip I was thrilled. 20 years ago my interest had been aroused by the stories from Neil Taylor, former owner of Regent Holidays and pioneer in visits to communist countries, but like so many people, I assumed that it would be almost impossible to get a visa. Of the many surprises, this was the first. "We take care of that" said Carl, and indeed they do. All I had to do was fill in a few forms and turn up at the airport.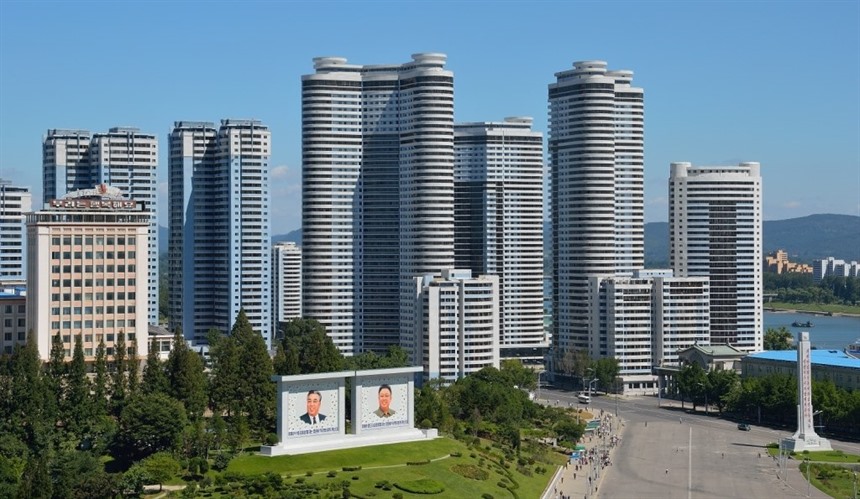 What I particularly liked about this itinerary was that it took us all over the country. I'm not a city person, so I wanted the opportunity to see the natural world and rural life as well as the truly extraordinary Pyongyang. It's a capital like no other. First of all it's spotless, not a speck of litter to be seen. Each citizen is responsible for keeping their area clean, the grass clipped (with scissors), the weeds eliminated. "It's our patriotic duty" explained our Korean guide. The vast squares with statues of ferocious soldiers achieving heroic victories, towering monuments, and its truly amazing Metro were special to Pyongyang. The Metro out-marvels, and out-marbles, that of Moscow; chandeliers hang from the high ceilings and huge murals of smiling peasants greeting the Great Leader at the steelworks or as war hero cover the walls. At the far end of Kaeson station is, inevitably, a golden statue.
Such statues dominate every visit. I knew that we had to pay our respects to representations of the first two leaders, but every day? We became very practised at buying flowers and taking it in turn to lay them before the statues, waxworks, or mosaics, looking up respectfully, then lining up to bow. Initially I just dipped my head but by the end I was doing a deep bow from the waist; it went some way towards relieving my aching back from so much standing around listening to explanations from factory managers, soldier-guides, or very beautiful young women dressed in their national costume. And that was something else I didn't expect: the full-length dresses worn by all official site guides, hotel staff, and just ordinary Koreans enjoying their national day were exquisite.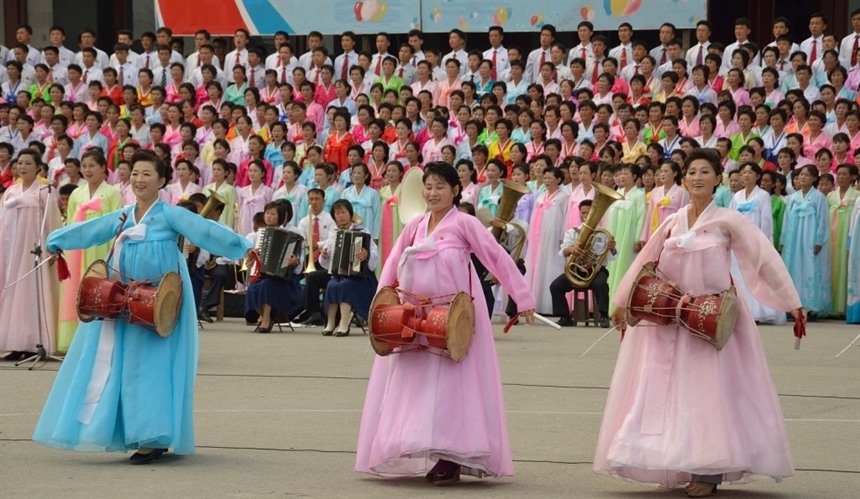 The talent demonstrations, often from tiny children, were one of the delights. At the Pyongyang Schoolchildren's Palace we watched their accomplished piano playing, dancing, embroidery and, as a contrast, taekwondo. Out of town, after a factory visit, we were entertained by an enchanting group of workers' children who sang, danced and played musical instruments to a standard that I found mind-boggling. And we had a chance to interact with older children - at a language school we shared desks with precocious teenagers who seemed extraordinarily self-assured as we talked about our families and pets.
I expected the food to be dreary and scarce. Instead it was varied, plentiful, and often very tasty. Twice a day we sat down at a table covered in little saucers of delicacies: meat, fish (often cold), salad, kimchee – always kimchee, the pickled cabbage which is a staple of the Korean diet – and a range of unidentifiable goodies arranged around a lazy susan turntable. And the beer festival was a revelation! This is a new thing in Pyongyang and the locals were embracing it with gusto and opening their hearts to these cautious foreigners. We joined a group of men at one of the tables and managed a rudimentary conversation while we drank a lot of beer. The waitresses had somehow perfected the Munich skill or carrying five or six tankards at a time, so there was no excuse to go thirsty. Not that we needed an excuse – North Korean beer is very good. Taedonggang beer, named after the city's river, comes in many different flavours, from dark stout to light ale. The brewery was shipped, lock, stock and barrel from the old Ushers Brewery in Trowbridge.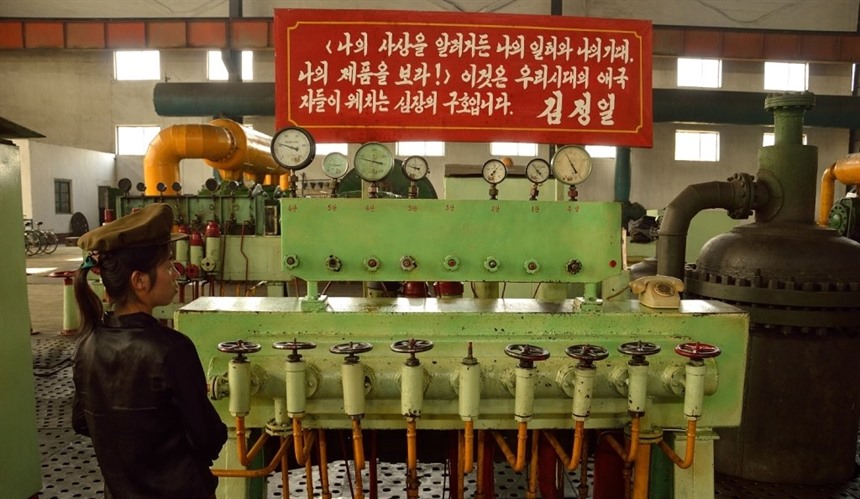 Another alcoholic tipple that took my fancy was makgeolli, made from rice. I chose that, rather than beer, when we visited an outdoor bar where locals were drinking and chatting, fish was being grilled, and the activities of ordinary people passed gently in front of our eyes. And this is what I loved about this itinerary: the long bus journeys on empty roads bordered with pink cosmos flowers, and the short city ones, once in a local tram and once in a 1950s Skoda, allowed us to observe everyday life as it happens rather than as the authorities would like it to happen.
Perhaps the biggest surprise about this country, which is full of surprises, is that Buddhism is still practised. Not officially, but as the Russians discovered, you can't get rid of a religion by outlawing it. When we were deep in the countryside we watched families trudging along carrying covered baskets. Carl explained that it was Ancestor Day and they were visiting the tomb of a loved one, hidden in a secluded place in the hills. There they would picnic, share memories, and make offerings of food. The historic Buddhist temples have been beautifully preserved and restored. We visited several and relished the contrast with the austere modern monuments. Here were swirly paintings, carved dragons and tigers, golden Buddhas, and a whole host of charming Buddha followers.
The DPRK is changing. Those who've visited several times comment on how much more relaxed it is now than even five years ago. No doubt it will continue to change. I'm not at all sure that I would prefer the future North Korea. So visit soon!
Hilary travelled to North Korea with Regent Holidays. The 18-day Pioneering North Korea Group Tour costs from £3,400 per person including visas, flights from Beijing, accommodation and sightseeing.
All photographs by H Bradt and C Meadows.
Find more inspiration #MyRegentMoment
Find more inspiration on our social media #MyRegentMoment