As I stepped down from the bus on a bright and sunny autumn day, I was met by a symphony of noise. A 5 year old boy, and his little sister, giggled and screamed whilst splashing each other with water from a nearby stream. Families lay on picnic blankets in the autumn sun chattering like birds. Traditional music filtered out from a small sound system as people of all ages danced and swayed amongst the trees. Dotted throughout the lush greenness were small groups of teenage students using watercolours to capture the beauty in front of them.
I certainly didn't expect to find myself strolling through such a beautiful park in the middle of the North Korean capital Pyongyang. But as I was quickly learning North Korea is nothing like I imagined it to be.
My tour began in Pyongyang where, with 6 other travellers, two local guides and a driver we explored the vibrant capital city. We started with a visit to the Kumsusan Palace of the Sun, which was the former residence of Kim Il Sung. North Koreans visit en masse to pay their respects to both Kim Il Sung and Kim Jong Il whose bodies lie in state here. We came across a group of ladies all dressed in traditional Korean dress who had travelled from the countryside to see the great leaders. They were very excited to see a group of westerners and I was lucky enough to have my photo taken with them.
After a visit to the cemetery commemorating the Korean War we headed out of the city to Mount Myohyang. The scenery was quite spectacular with the reds, yellows and browns of autumn putting on a colourful show against the backdrop of mountains and waterfalls.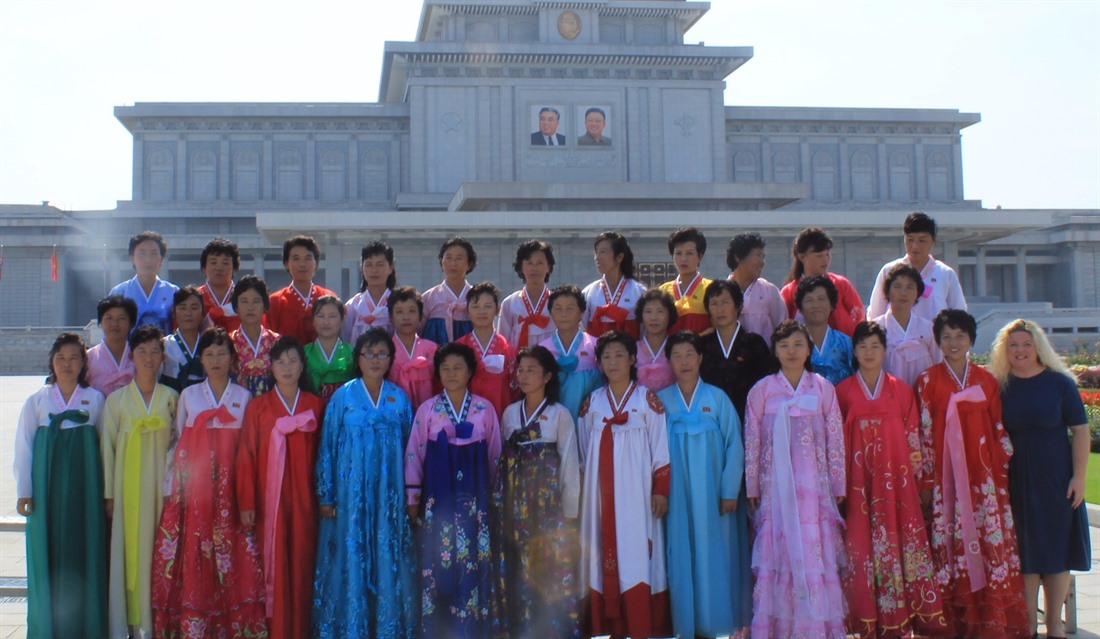 Nestled amongst the mountain scenery was a beautiful, brightly coloured, pagoda, which houses the main attraction of the area. The International Friendship Exhibition is a massive display of the gifts presented to Kim Il Sung and Kim Jong Il. Consisting of over 150 rooms it is a huge complex with doors and rooms at every turn. There are bullet proof cars presented by Josef Stalin, a train carriage from Mao, a basketball signed by Michael Jordan, Crocodile skin suitcases from Fidel Castro and even a boat and airplane. It is both a unique and stunning exhibition and one that continues to grow. After enjoying a hot drink on the veranda with views of the hillside we made our way to the most historically important Buddhist Temple in North Korea. The Pyohon Temple dates back to the eleventh century. However, the current incarnation mostly dates from the 1950's as the temple complex was damaged during the Korean War. It features several small pagodas and a large hall, which houses images of Buddha. It is also home to 20 Buddhist monks.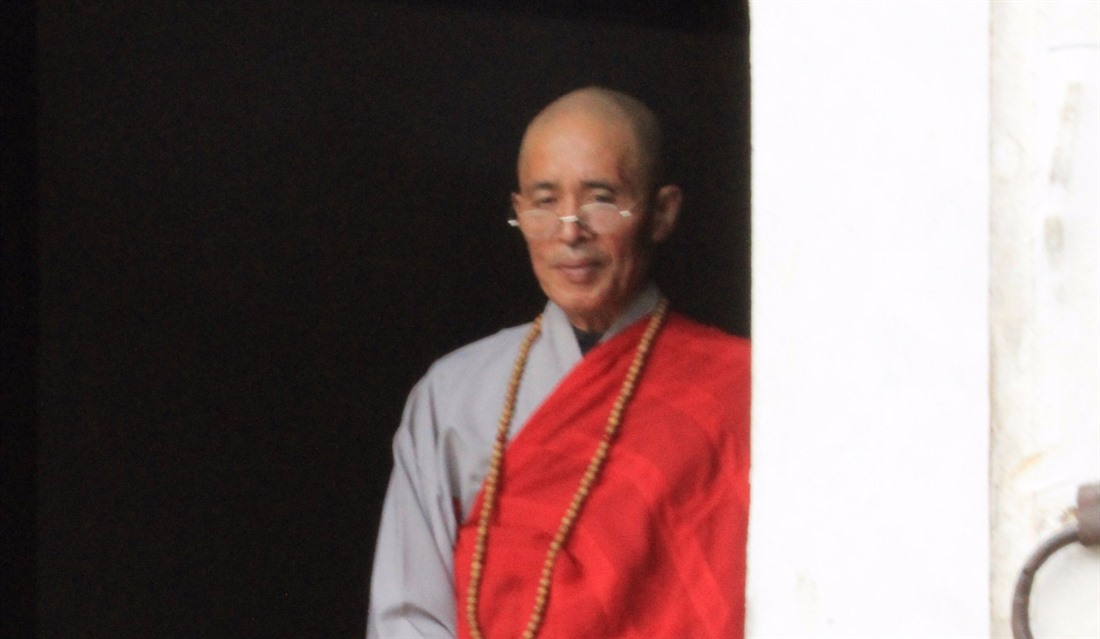 After a long journey south, we visited Sonjuk Bridge. Built in 1290 it is famous for being the place where Confucian scholar and diplomat Jeong Mong-Ju was assassinated in 1392. The bridge is considered to be a national monument and is seen as a symbol of loyalty due to Jeong among-Ju's refusal to recognise the new regime of Yi Song Gye.
With most of the talk about North Korea being post Korean War it was fascinating to delve into some of its early history. Our exploration continued with a visit to the Songgyunkwan University and Koryo Museum. Originally founded in 992 it was the highest educational institution established during the Koryo and Choson dynasties. Today it hosts the Koryo Museum, which contains pottery, ironworks, prints and other relics from the Koryo dynasty. It also has an excellent souvenir shop offering an array of stamps, postcards and posters. Yet again I was delighted and surprised by what North Korea had to offer.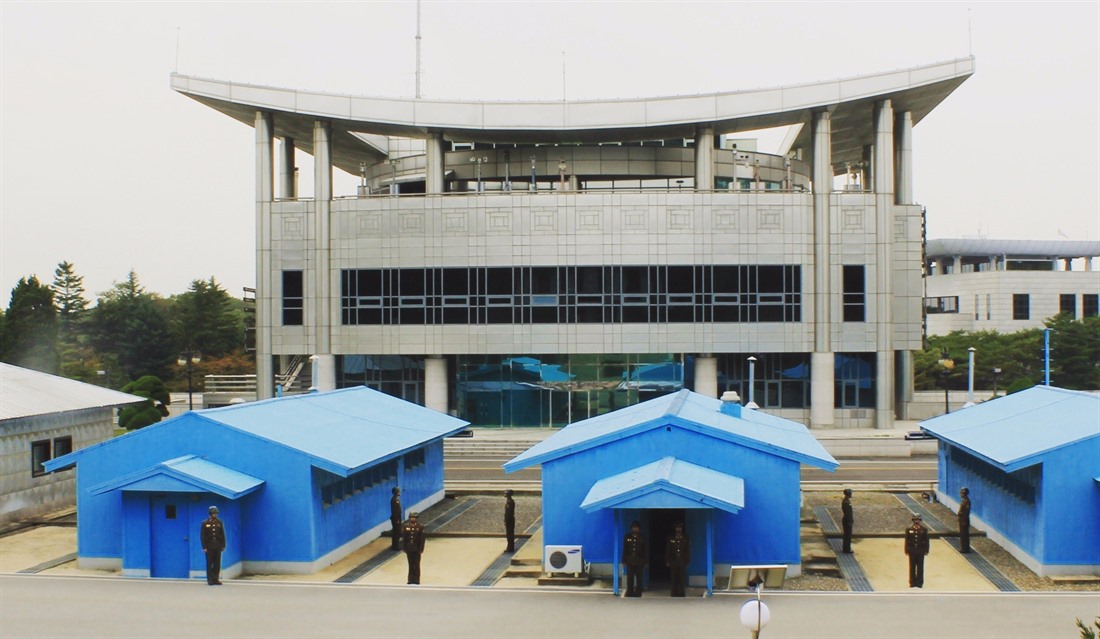 Our next stop was, for me, the highlight of the tour a visit to Panmunjom and the DMZ. Upon arrival at Panmunjom we were met by a Lieutenant who would be our guide. The first stop was the Armistice Talks Hall, which is where negotiations were held between North and South Korea from 1951 until the final armistice was signed in 1953. From here we boarded our bus and headed to the Demarcation Line. In front of us was a large modern building, which looked like an office block and is the headquarters for the South Korean side. The North Korean side has a similar building, which we were told is the bigger of the two. Between the two buildings there are a row of blue huts built over the demarcation line. The purpose of these is so that meetings can be held between the two countries. It also allows tourists the opportunity to walk a few metres into South Korea- although the doors are tightly protected by two guards. It was a very strange experience being on the front line of such a huge military operation.
The journey back to Pyongyang took us via the Three Point Charter for National Reunification. A stunning monument that expresses the hope that one day, the Korean Peninsula will once again be united as one country. All too soon the tour ended back where it had started in Pyongyang. Sadly I boarded my flight to Beijing with the hope that one day I would return to explore more of this fascinating country.
About Sarah
When I am not watching my beloved Fulham FC I am either planning my next trip or travelling. I have visited over 100 countries with my favourites being Greenland, Iran and North Korea. I manage to fit in all of my travels whilst working full time as a Trade Union Organiser.
Words and photographs by Sarah Keig. Sarah visited North Korea with Regent Holidays in 2017. If your Regent Holiday inspired you to put pen to paper, submit your own 700 word blog to our editorial team by emailing justreturned@regenthollidays.co.uk.
Find more inspiration on our social media #MyRegentMoment