Cobbled market squares, towering church spires and medieval old towns that have stepped from the front of a Christmas card are just some of the reasons that a holiday to Poland is on many people's bucket list.
And if you're wondering which Polish city to visit then we've got you covered.
The cat has long been out of the bag with regards to the charms of Krakow, but Wroclaw and Torun are just as handsome and come without the tourist crowds.
Poland's cities have long stolen most of the tourist headlines, but it's also worth looking past the city gates if you're on a Poland holiday.
In the north you'll find a stretch of golden beaches that culminate in the spa resort town of Sopot, while Zakopane, in the south, offers ski resorts and snow adventures in the towering Tatra Mountains.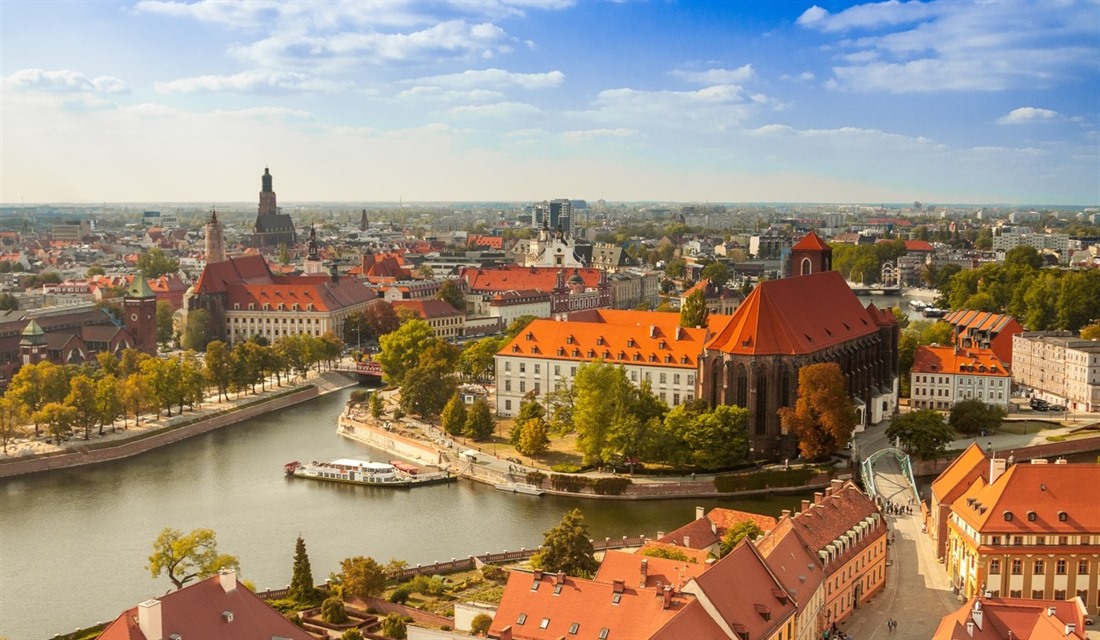 We put our heads together to choose our top five places to visit in Poland, and we came up with the following:
Wroclaw
Sopot
Torun
Zakopane and the Tatras
Krakow
Read on to find out why.
1. Wroclaw and its islands
Surely, one of the best holiday destinations in Poland is Wroclaw.
Filled with cobblestoned backstreets and grand townhouses, Wroclaw has the sort of Cinderella architecture that will keep you reaching for your camera. It was the the European Capital of Culture in 2016 and has been the capital of the Lower Silesian province for a long time, both of which prove that Wroclaw has history and culture in abundance.
The fairytale is completed by a stunning market square in the heart of the centre, where you'll find dozens of alfresco cafes, bars and local breweries making the most of the stunning scenery.
The city is also famous for its islands. There are more than a dozen sprawled along the Odra River playing host to parks, boat rides and Wroclaw's grand cathedral.
Top Sight: The Market Square in Wroclaw is one the largest squares in Europe and has the oldest restaurant in Europe.
2. Sopot and the sea
Better known for its snowfall than its sand, Poland's beaches are long, white and powder-soft. The seaside scene is best explored in Sopot. This 19th-century spa town was once favoured by Kaisers and kings, and its long wooden pier, gourmet fish and chip spots and recently-renovated spa facilities meant it was only a matter of time before Sopot once again turned up on lists of the best beaches in Europe.
If you are looking to combine places to visit in Poland, you could pair Sopot with a trip through the history of Lech Walesa's solidarity movement in nearby Gdansk.
Top Sight: The Crooked House (Krzywy Domek) on Monte Cassino street will certainly make you stop and stare. Not only is it architecturally bizarre but it houses cafes and bars which are perfect for a quick stop before taking in other sights.
3. Torun and its medieval old town
Little known and all the better for it, Torun's beautiful timber-framed townhouses and red brick churches make up a medieval old town that is one of the best-preserved in Europe. With few visitors, this is a Poland holiday destination where you'll be able to explore the Gothic town walls and flashy baroque churches at your own pace.
You'll also learn about local celebrity Nicholas Copernicus. The astronomer was born in Torun, and his birthplace is given over to a museum filled with artefacts from his life.
Top Sight: House of Nicolas Copernicus Museum
Discover medieval Torun on our tailor-made Explore Poland tour.
4. Zakopane and the Tatras
With prime access to first-class ski runs in the peaks of the nearby Tatra Mountains, Zakopane is Poland's winter capital - not that you need skis or snow when touring the region. In summer there are hikes into glacial valleys decorated with waterfalls and mountain lakes.
The Toblerone-shaped log cabins that dot the foothills belong to the Gorale, an independent community with their own distinct folk traditions. Spend the evenings back in Zakopane watching them cross axes in a Gorale dance and listening to fiddles by the fireside.
Top Sight: People-watch on Walking Street (Krupowki Street) and take in the local delicacy of Oscypek, a local cheese only made around Zakopane.
5. Krakow and its cobblestones
If it's your first time on holiday in Poland, you have to see Krakow.
Its meandering cobblestone streets, grand royal palaces and soaring spires of ancient churches combine to create an unrivalled classical collection of European architecture. UNESCO agrees, and didn't just put Krakow's individual buildings on its heritage list but the whole Old Town district.
This is also the best place in Poland to discover the country's rich Jewish heritage. In the renovated Kazimierz district bookshops, restaurants and synagogues document the vibrant community that once lived here. Krakow is also a good starting point for any trip to the Auschwitz concentration camp and many tour operators based in the city offer day trips.
Top Sight: Get your history, culture and people-watching fix whilst having a coffee in the market square of old town Krakow.