It's the most wonderful time of the year! As the nights get colder and leaves get crunchier, thoughts turn to warming up with a mulled wine and a German sausage (plus vegan and vegetarian alternatives) at a Christmas market.
If you've never been to one before, a Christmas market typically means little stalls huddled close to one another, usually in a town or city square. In these stalls you'll find local producers providing warm food, alcohol and Christmas goods.
They are not recent editions to the Christmas calendar either – the first Christmas market was Vienna's Dezembermarkt in 1296. Here, the townspeople could congregate and stock up on food and supplies to provide them with enough for the winter months.
This first Christmas market was emulated across Europe and soon local families also took the opportunity to sell homemade products to earn some cash before heading off to Toys 'R' Us (or the medieval alternative!).
Soon, the tradition of Christmas markets boomed. Today, there are over 100 Christmas markets across Europe.
If you've become tired of your local market or you've been to all the big markets (looking at you, Berlin), then we've put together this list of off-the-beaten track Christmas markets that you should visit this year.
And if you have had your fill of mulled wine, we've included a list of other attractions that will keep your camera clicking throughout your holiday.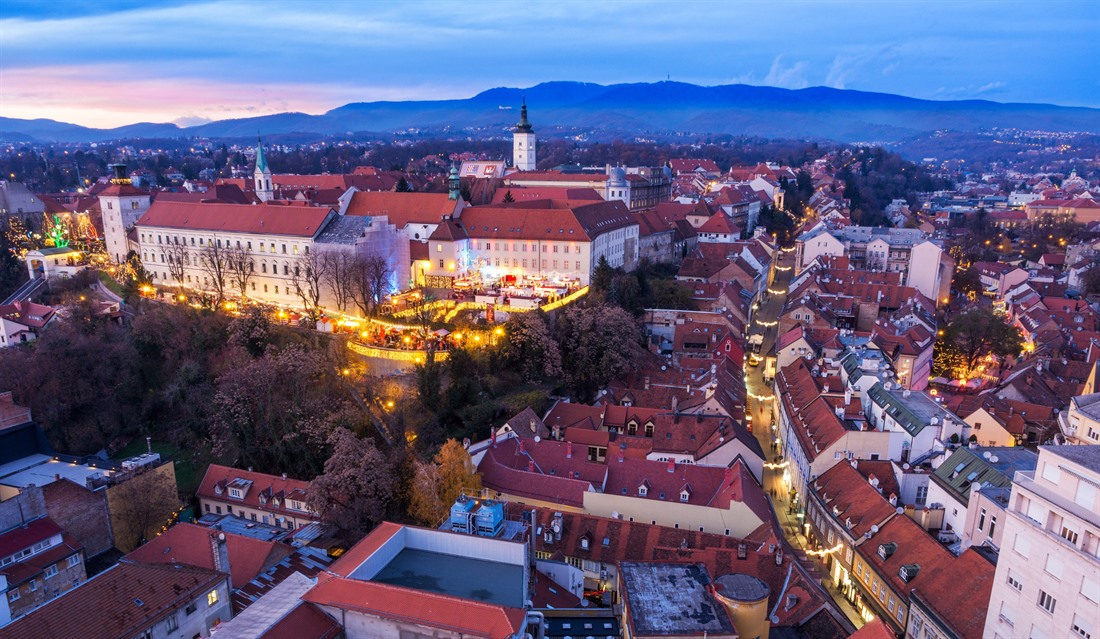 Zagreb
Open: November 30th – January 7th
Flight Time from the UK: 2 hours 15 minutes
The capital of Croatia hosts an annual Christmas market that has won the award for best Christmas market three years in a row. In fact, they hold such a monopoly over the Christmas market competition that they have not been allowed to enter any more. Bah Humbug!
Zagreb Christmas Market, known as Zagreb Advent, is spread out over many areas in the city so you can be assured that you won't be squeezed into one small space. Plus, there's a huge ice skating rink in King Tomislav Square. If you get too cold during ice skating, the Zagreb Art Pavilion underneath houses stalls where you can warm up with mulled wine and food.
For those who aren't keen on ice skating, Zrinjevac Park has live classical music emanating from the pavilion so you can relax and unwind whilst enjoying the food and drink from the stalls.
The best thing about the Christmas Markets in Zagreb is that the prices are reasonable, so no more penny pinching and £8 pints!
Whilst you're in Zagreb you can also:
• Visit the Presidential Palace
• Discover St Mark's Church
• Take the funicular to Ban Josip Jelacic Square
• Find ornate tombs at Mirogoj Cemetery.
Interested in Going?
From £570 per person including return flights, 3 nights in double room B&B at the five-star Esplanade Zagreb and return airport transfers.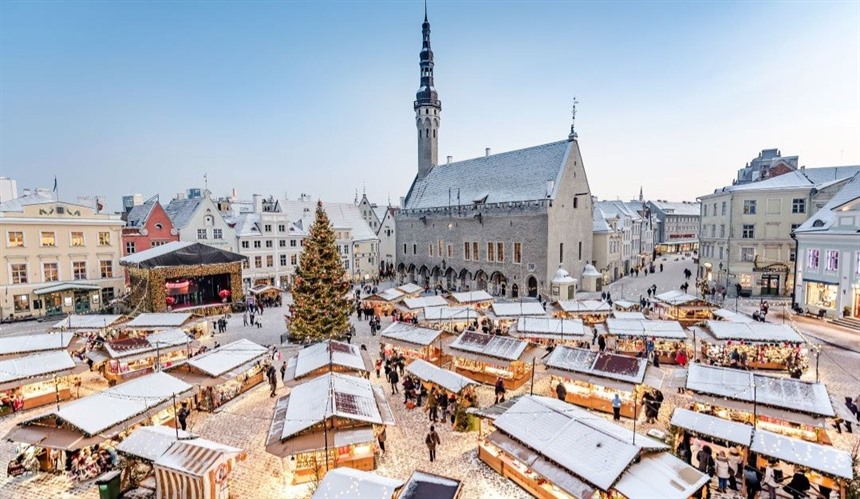 Tallinn
Open: December 1st - January 7th
Flight time from the UK: 2 hours 45 minutes
Step into a winter wonderland as the Tallinn Christmas Market opens its enchanting stage and sales kiosks, inviting you to bask in the magic of the season. Nestled in the historic Town Hall Square, this market has been a cherished tradition for centuries, dating back to the very first Christmas tree erected here in 1441.
Tallinn Christmas Market is renowned for its cosy atmosphere, nestled amidst half-century-old buildings and steeped in age-old traditions. Over the years, it has garnered international acclaim, repeatedly being voted one of the world's best Christmas markets.
More than half a million visitors, including families and curious souls from near and far, flock to the market annually. Children are treated to carousels and Santa Claus, while shoppers can explore high-quality handicrafts, delectable gingerbread, and hearty Christmas roasts. The air is filled with the aroma of mulled wine and hot chocolate, offering an array of flavours for all ages.
If you are visiting Tallinn Christmas Market, then don't forget to:
• Explore the impressive Niguliste Museum
• Wander through the luscious greenery in Kadriorg Park
• Discover the medieval beauty of Masters' Courtyard
Interested in going?
From £695 per person including return flights, and 3 nights with breakfast at the charming St Barbara Hotel on our Tallinn Winter City Break.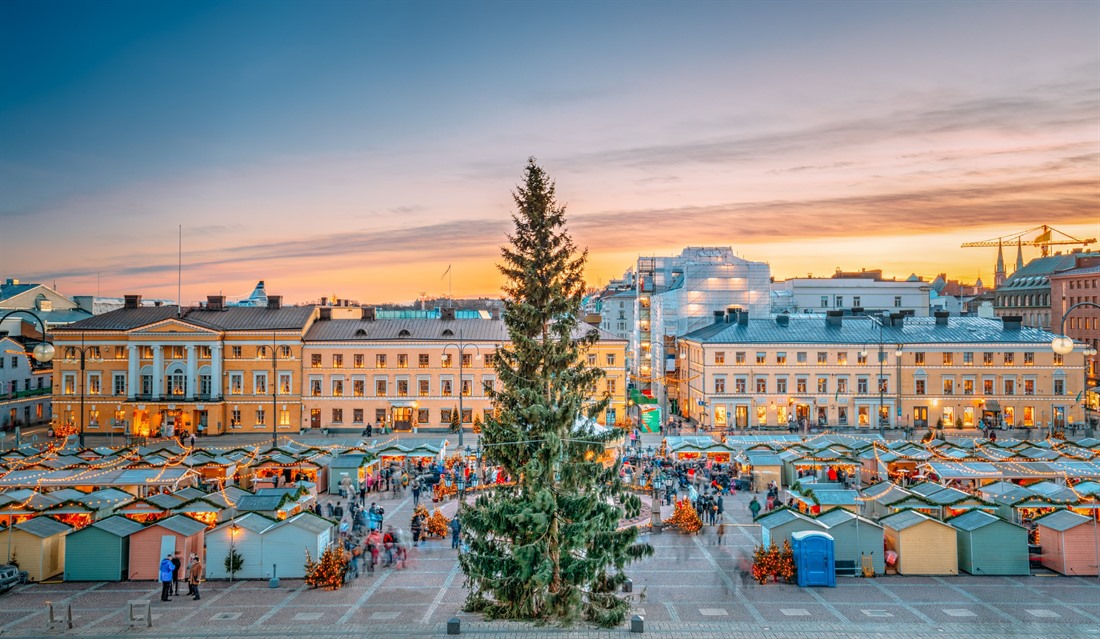 Helsinki
Open: December 1st – 22nd
Flight time from the UK: 2 hours 50 minutes
With Finland's capital boasting temperatures that average 1°C in December, it's important to wrap up and drink lots of warm liquid. Thankfully, Helsinki's Christmas market lets you do just that. With over 140 stalls selling all manner of drinks, decorations and food, you won't be cold and bored when visiting it.
Helsinki Christmas Market is in the Senate Square with the beautiful Helsinki Cathedral as the backdrop.
When visiting Helsinki during Christmas, you shouldn't miss out on:
• Taking a trip to Helsinki Zoo
• Exploring Helsinki Cathedral
• Visit the Sibelius Monument within Sibelius park
Interested in going?
From £595 per person including return flights, 3 nights in double room B&B at the four-star Sokos Hotel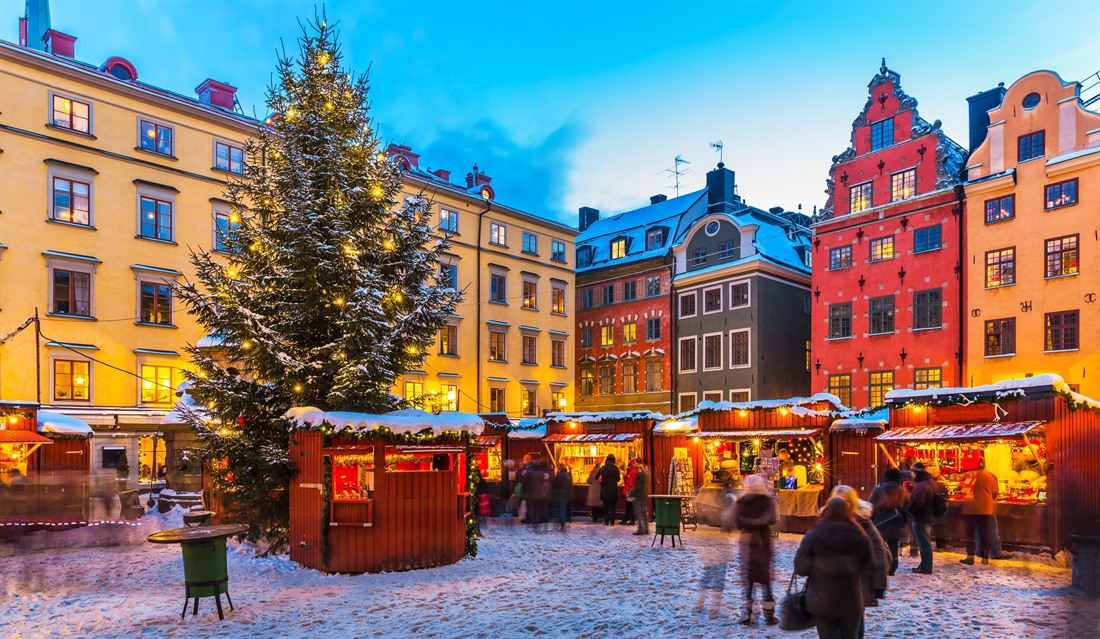 Stockholm
Open: Weekends only 30th November – 22nd December
Flight time from the UK: 2 hours 30 minutes
Thanks to Stockholm's 4 Christmas Markets, you won't be stuck for things to do in Sweden's capital. However, Skansen, on the park island of Djurgården where the Christmas markets date back to 1903, is a great one to visit. As well as traditional stalls with foods, treat and decorations, there are lit bonfires dotted around. You're guaranteed a cosy evening.
Gamla Stan, commonly known as the Old Town, lies just south of the Royal Palace and has a large Christmas Market, so you'll be assured of getting your fill of Christmas activities when visiting Stockholm.
Other Things to see and do in Stockholm include:
• Seeing a fully restored 17th Century ship at the Vasa Museum
• Taking in the historical area of Gamla Stan
If you are visiting Sweden at the right time, another Christmas tradition that shouldn't be missed is the annual burning of the Yuletime goat in Gävle.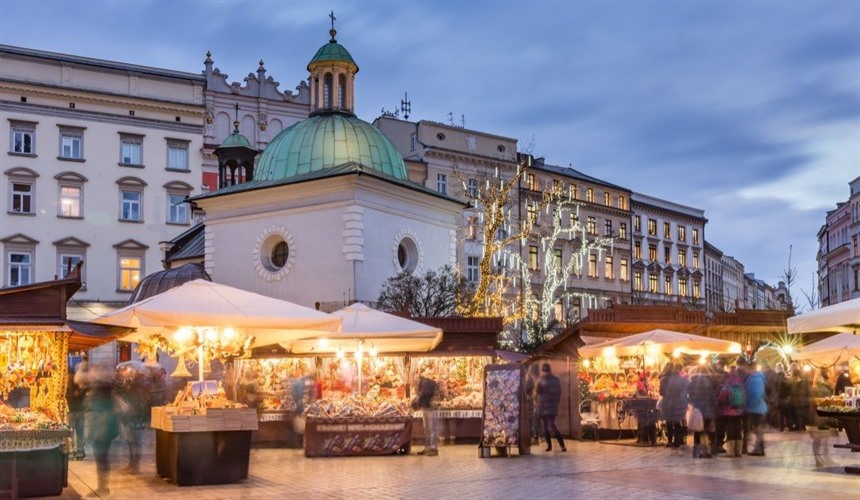 Krakow
Open: December 24th – January 1st
Flight time from the UK: 2 hours 30 minutes
The Krakow Christmas Market unfolds in the expansive embrace of Krakow's Main Square, one of Europe's largest medieval squares. Amidst the bustling market stalls, the magnificent twin-towered basilica of St Mary's and the iconic Cloth Hall stand as timeless landmarks.
The air is filled with the intoxicating aroma of authentic mulled wine, a Polish specialty made with cloves, ginger, orange slices, and honey, creating a symphony for your taste buds. If you're feeling adventurous, sample the equally delightful, mulled beer, with a touch of honey to balance the bitterness.
Poland's cold winters have inspired a diverse range of soups, including the beloved spiced beetroot soup, a Christmas Eve tradition. Don't forget to explore the charming stalls offering handmade wooden toys, intricate Christmas decorations, and the famous Krakow Christmas baubles.
Though not officially part of the Christmas market, you'll discover enchanting ice rinks throughout the city in December, including the year-round rink used by the local ice hockey team. These rinks are just a stone's throw away from the Old Town, providing an opportunity for joyful winter activities.
While visiting Krakow Christmas Market, don't forget to:
• Admire the majestic Wawel Royal Castle
• Delve beneath the city's surface to the Rynek Underground market square
• Visit the fascinating Wieliczka Salt Mine
Does this take your fancy? If you want to visit these or any other city in Europe for a Christmas market break, don't hesitate to get in touch. Our Krakow Winter Short Break is £645 per person and includes return lights, and 3 nights with breakfast at Vienna House Anfel's Cracow.

Find more inspiration on our social media