There are many reasons to pick a holiday to the Azores. Each island has pristine environments and history aplenty. Indeed, these nine tiny Portuguese islands in the Atlantic Ocean, show that size isn't everything.
Their far-flung location and balmy year-round temperature makes the landscapes unlike any other. The Azores combine opalescent lakes and lava caves with lush green hills littered with colourful hydrangeas. Offshore the adventure continues, as waters visited by BBC and National Geographic camera crews are patrolled by wild dolphin, sperm, pilot and beaked whales.
Part of Portugal in political terms alone, Azoreans slower pace of life helps define a destination that needs to be seen to be understood.
But as word of their untouched scenery gets out, the trickle of travellers arriving on the islands is starting to increase. And at Regent, we recommend planning a visit before the crowds arrive. With flights from the UK lasting around four hours, it really has never been easier to visit the Azores.
But which island to pick?
We pit the stunning landscapes of Sao Miguel Island against the UNESCO heritage of Terceira Island.
Why Sao Miguel Island?
The biggest island of the Azores plays host to the bulk of its residents and is most visitors' point of entry to the archipelago thanks to busy Joao Paulo II airport.
The island is volcanic in origin and pockmarked with craters – many of which now hold vast lakes of startling blues and greens.
Spectacular Lagoa do Fogo, the largest in Sao Miguel, occupies the central caldera of the windswept Água de Pau Massif stratovolcano and boasts exceptional hiking routes that crisscross between peak viewpoints.
For an alternative perspective of the landscape, try paddle-boating across the lightly bubbling waters of Furnas Crater Lake.
The main town of Ponta Delgada makes Sao Miguel the favourite island in the Azores for Regent's travel Specialist Christina Gibbons. She explains "every turn of the narrow, cobbled streets brings in to view delightful buildings, cafes and shops, interspersed with some of the worst examples of brutalist architecture."
You can set sail to see sea life from most of the islands in the Azores, but Sao Miguel offers the most options for excursions. Set off out into the Atlantic with Picos de Aventura in search of playful pods of bottlenose dolphins or sperm, humpback or minke whales – with over 27 species moving through the waters year-round, you're (almost) guaranteed a sighting of some kind.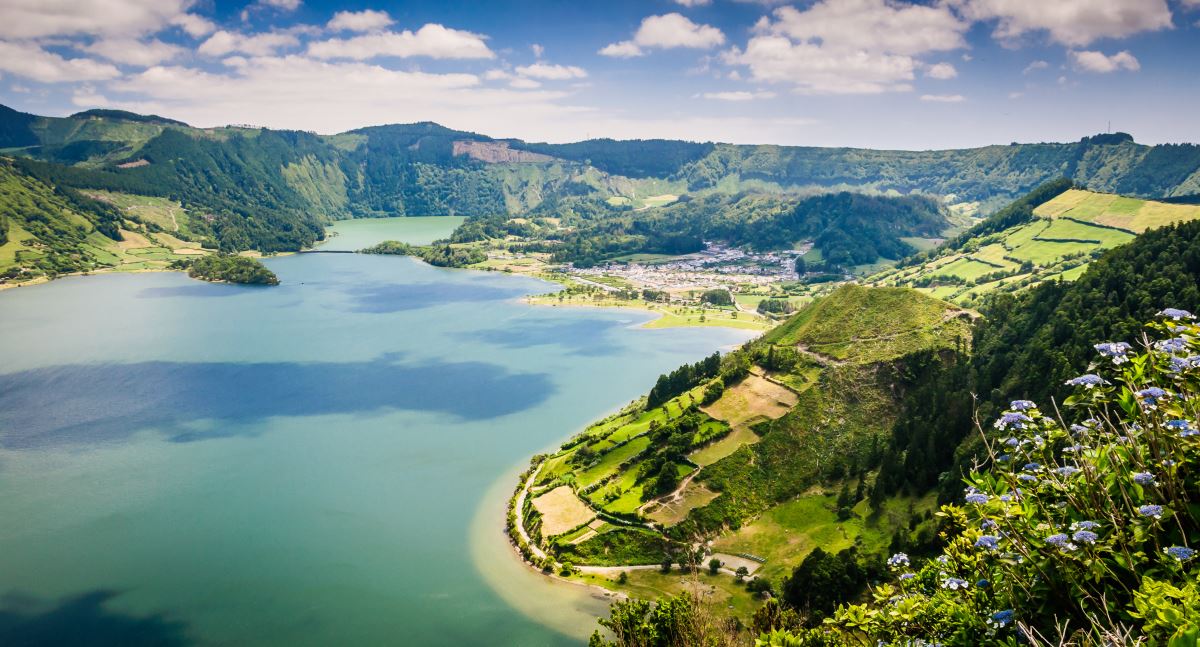 If you go to Sao Miguel for one reason: Conquer the volcanic landscapes by hopping aboard a 4x4 designed to tackle the rugged terrain on your behalf. This jeep safari with Trilhos da Natureza takes in the island's famous twin lakes, Sete Cidades and the local guides in the driving seat know exactly where to park to find the best panoramas.
Why Terceira Island?
The picture-perfect scenery typical of the other islands extends to Teraceira, another of the archipelago's largest characters.
So it comes as no surprise that there are plenty of opportunities to entertain any traveller who remembered to pack their hiking boots.
But it's the history of the island that makes it stand out from the crowd.
The old town of the Angra do Heroismo is a UNESCO World Heritage thanks to its Portuguese military architecture, including the 400-year-old San Sebastiao and San Joao Baptista fortifications that surround the Monte Brasil extinct volcano.
Terceira also boasts the largest temple of the archipelago – the terracotta roofed Se Cathedral was constructed in 1570 over the remains of the gothic Church of the Holy Saviour.
It's not just the old town that might tip Terceira in your favour versus Sao Miguel. As Andrea Godfrey explains "It's difficult to tear yourself away from dramatic coastlines, tiny pastures enclosed with volcanic dry-stone wall, where caramel coloured cows munch all day"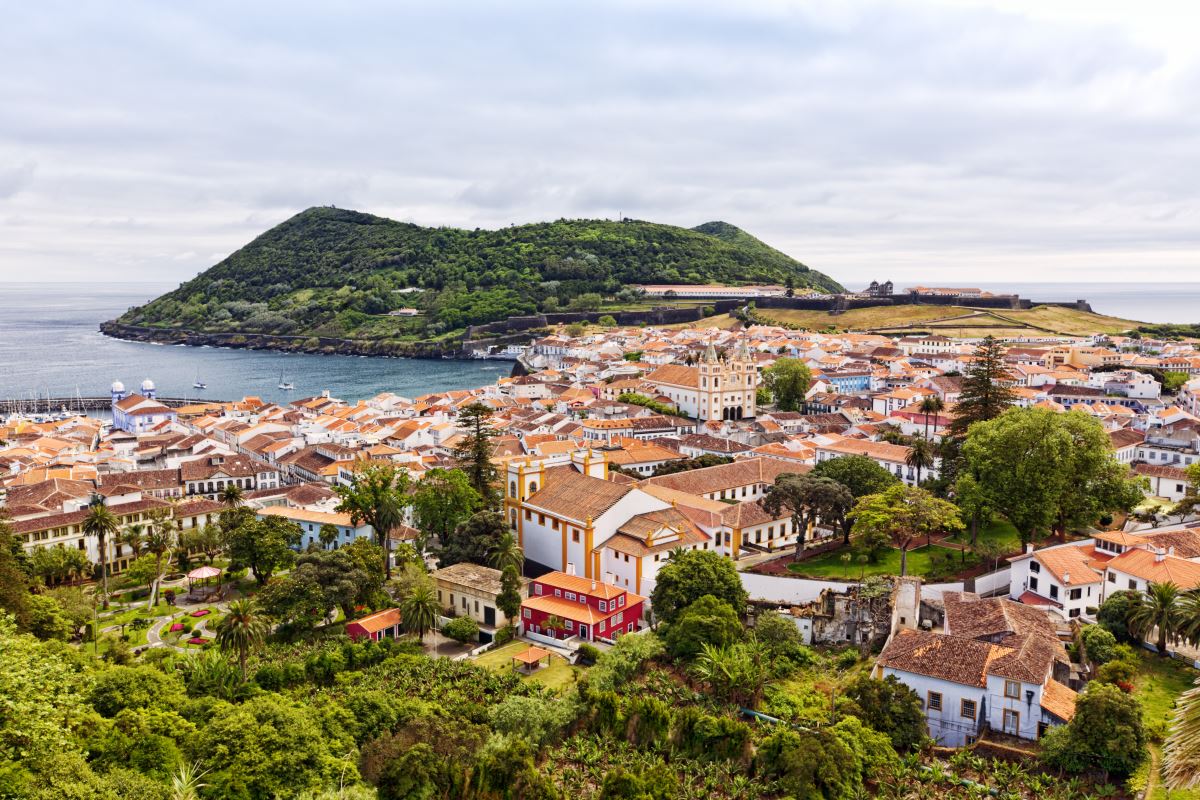 Getting to Terceira from Sao Miguel is really easy. And there are several methods you can take.
Taking a short flight from Sao Miguel to Terceira - Lajes Airport is one option. This is more costly compared to other options but certainly cuts down on travelling time.
A ferry is an additional option although, like with any other travel option, ferries in the Azores are naturally at the mercy of the Atlantic Ocean. The ferry takes over 4 hours but is potentially a more scenic avenue to take compared to flying.
If you go to Terceira for one reason: Step back in time to enjoy the picturesque Azorean surroundings from a traditional working farm at Quinta do Martelo. Spend a night or two in a rustic farmhouse designed to give you an authentic glimpse of olden-day life; sample organic produce and stews cooked on a wood-burning stove, learn how livestock was reared and take part in traditional festivities.
When to go
Whether you choose to go to Sao Miguel or Terceira, it's important that you go at the right time. Thankfully, due to the Azores island's location, there really isn't a bad time to go. The optimal time would be May to September to ensure that you have all the transport options available and the weather is more appropriate for hiking and sightseeing. But with that comes additional crowds of tourists.
So, if you don't mind less than balmy temperatures but would appreciate a less busy environment, then winter would still be good for you.
Find more inspiration on our social media #MyRegentMoment