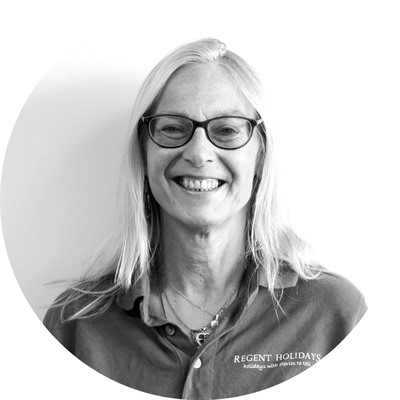 Christina Gibbons
Senior Russia & Europe Travel Specialist
My first visit to Russia, or to the then Soviet Union, was in 1973. Oranges were a sought after luxury and the tour guides towed the party line.
Many illusions of down trodden, sullen people were dispelled – with temperatures hitting the upper 80s folk were out and about in summer clothes, eating ice creams, swimming in the rivers, picnicking and queuing at street barrels for the alcohol-free malt beer kvas. So started a long love affair with Russia.
I have since returned many, many times but my excitement for the country has never wavered. There is always a frisson of tension and a hustle and bustle about the place, especially in Moscow.
One cannot fail to be awe-inspired by the former wealth of the Tsars and the autocracy with their opulent palaces and priceless art collections. It is worth venturing off the well-trodden tourist routes to experience the vastness of the world's largest country.
Take the train from Moscow to Irkutsk - an amazing piece of engineering in itself - to gaze in wonder at the world's deepest lake, Lake Baikal. Stop en route in Yekaterinburg, Russia's first industrial city; and the gateway between Europe and the East with the Ural Mountains forming a natural boundary Yekaterinburg's main claim to fame is as the city where the last Tsar of Russia's family were assassinated.
My first tour with Regent was over 27 years ago to the then staunch communist state of Albania. All foreigners were viewed with suspicion and one had to walk through a disinfectant trough on entry in order not to contaminate the local populace. Several times I was hauled before the secret police because members of my group had tried to venture on to a train. It took much persuasion to convince them of the British love of rail travel.
North Korea is not dissimilar today; in order to pay your respects to the late Great Leader and founder of the present-day state, you have to be fumigated!
If I had to pick a favourite tour it would have to be Russia and the trip I took down the river Volga.
There's the Kremlin, GUM and Red Square in Moscow at the start and the Great Palace and famous museums of St Petersburg at the end, but the best bit is that you get to see Russian life from the banks of the Volga. There is also a stop in Kizhi Island. The huge wooden churches here are one of Russia's least known but most impressive attractions. You can travel on a similar trip on one of our 5-Star Russian River Cruise holidays.
Featured Tours
Latest Blog Posts